Labour MP Sir Kevin Barron breached code of conduct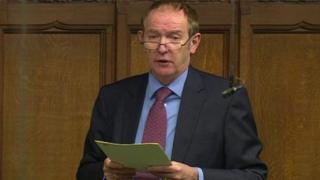 A Labour MP broke the Commons code of conduct by accepting payment for hosting events for a drug company in Parliament, it has been found.
But Sir Kevin Barron's breach was "minor" and "inadvertent" and the fees received were donated to charity, Parliamentary Standards Commissioner Kathryn Hudson said.
There was "nothing untoward" in his behaviour, she added.
The Rother Valley MP referred himself following a newspaper report.
Sir Kevin, who is chairman of the Commons Committee on Standards, stood aside from this role while the matter was investigated. Ms Hudson's report was sent to the committee for consideration and it has now published its findings.
It recommends that no further action be taken.
'Integrity and honesty'
Sir Kevin entered into an agreement with the Japanese Pharmaceutical Group (JPG) in 2011 and sponsored three events in Parliament.
Money was donated to the Bluebell Wood Children's Hospice in his constituency, and the committee's report found that three cheques to the charity, each for £3,000, had been registered in Sir Kevin's entry in the Commons register of members' interests as remuneration.
Sir Kevin referred himself to the independent commissioner after a Daily Telegraph report on his links to JPG.
The committee agreed with Ms Hudson that there were "no doubts over Kevin Barron's integrity and honesty".
In her inquiry, the commissioner found that by hosting the events in Parliament, Sir Kevin had breached Commons "banqueting rules" that state that private dining rooms "are not to be used for the direct or indirect financial or material gain by a sponsor", even though the money went to charity.
'Adhered fully'
Ms Hudson said: "There was nothing untoward in Sir Kevin booking the dining room for the use of a third party.
"Indeed, at the relevant time the banqueting regulations allowed third parties to book the dining facilities, only through the sponsorship of a named Member.
"The breach of the rules arose because, in his agreement for the provision of services, Sir Kevin said that he might sponsor the occasional event in Parliament. This then became part of the remunerated agreement and thus breached the regulations."
Sir Kevin told the commissioner he was "surprised" at the breach of banqueting rules because he had declared his interests when booking the rooms.
"If I had breached any of these rules I would have expected to be contacted by the registrar," he said.
The committee agreed with the commissioner that Sir Kevin had "adhered fully to the rules on the disclosure of his relationship" with JPG.
But "we also agree with the commissioner's finding that Kevin Barron was in breach of the code in accepting payment of any kind linked to the use of House facilities".
The committee, made up of MPs and lay members, raised concerns about the "multiplicity of rules" set by different bodies within the Commons and the "vagueness" of the wording.