Hilary Benn and Yvette Cooper win select committee chair elections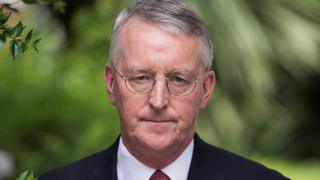 MPs have elected Labour's Hilary Benn to lead a new cross-party select committee which will scrutinise Brexit.
Mr Benn, who backed Remain in the EU referendum, beat Leave campaigner Kate Hoey to the job.
In other contests, Labour's Yvette Cooper was named as the chairwoman of the home affairs committee.
And Tories Damian Collins (culture, media and sport) and Stephen Metcalfe (science and technology) were also voted in.
The role of select committees, which interview witnesses and produce reports to check the work of different areas of government, has increased in profile in recent years.
Parties are allocated specific chairman positions according to their share of MPs in the Commons, with all members able to vote in the elections.
Mr Benn beat Ms Hoey by 330 to 209 to become chairman of the new Brexit committee when it has appointed the rest of its members.
Ms Cooper beat her fellow ex-shadow minister, Chuka Umunna, to replace Keith Vaz at the head of the home affairs committee by 281 votes to 196 in the final round of voting.
BBC chief political correspondent Vicki Young said the line-up had shown some senior Labour figures were seeking to raise their profile from the backbenches rather than in the shadow cabinet.
The SNP's Angus MacNeil was appointed unopposed to lead another new committee, shadowing the Department for International Trade.