UKIP: Steven Woolfe resignation 'a side-issue'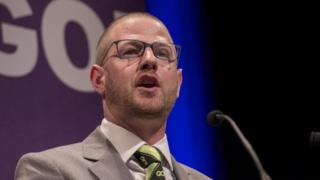 UKIP's chairman has called the resignation of MEP Steven Woolfe from the party a "side-issue".
Paul Oakden also said it felt "let down" by the altercation after which Mr Woolfe had to be admitted to hospital.
UKIP's focus was now on finding a new leader to give it "fresh direction and fresh purpose", he told BBC One's Breakfast programme.
Mr Woolfe announced he was quitting UKIP on Monday, claiming the party was in a "death spiral".
He spent three nights in hospital earlier this month after a row at a meeting in the European Parliament in Strasbourg.
Describing Mr Woolfe as a "man of great talent and ability", Mr Oakden told Breakfast: "I completely disagree that the party is in what Steven has characterised as a death spiral.
"Interesting that Steven mentions having let down the British public. I think that perhaps what's true there is that the altercation in Strasbourg certainly let down the British public and let down the party."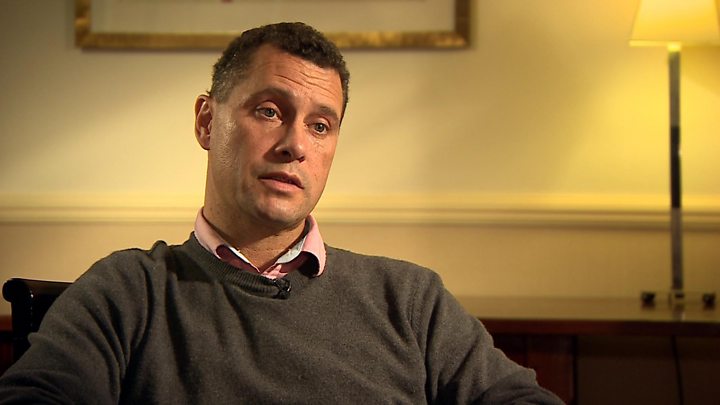 Mr Oakden added: "I'm disappointed that Steven has gone, but let's be clear here - this was someone who was under investigation by the party for being involved in an altercation that came about in a meeting that was called due to him talking to the Conservatives about defecting.
"So there were clearly underlying problems there, both from his perspective and clearly from the party's perspective as well."
Nigel Farage is serving as UKIP's interim leader, following the resignation of Diane James after 18 days in the role. Nominations for the contest to replace him opened on Monday and will close on 31 October, with the eventual winner announced on 28 November.
Mr Oakden said: "Clearly UKIP is facing some challenges at the moment. I remain entirely confident that the election of our new leader will solve many of those problems.
"We are looking for somebody now to lead our party, to take our party forward, to give it fresh direction and fresh purpose."
'Comfortable'
He said: "We wish Steven well but it's a side-issue when we're all focused on the bigger picture right now."
Mr Oakden said "lots" of people within UKIP wanted to run for leader, adding: "Many people have spoken to me personally about it."
And, speaking on Radio 4's Today programme, he denied a report saying the party was £800,000 in debt, adding: "I can absolutely confirm we are in a comfortable cash-positive financial position."
Meanwhile UKIP's Scottish MEP David Coburn stold Today the party's libertarian politics meant people "can't be told what to do" but called on party members to "govern their own emotions and govern their own behaviour".
Downwards spiral
He added: "What has happened is that we have had a charismatic leader for many years, who has kept a lid on things.
"Now what you have got is you've got to choose a new leader. In that, you've lifted the lid off things a bit and it bubbles over."
Mr Woolfe had been as a frontrunner to become UKIP leader after the surprise resignation of Diane James.
However, he said he was withdrawing as a candidate and resigning from the party immediately, "with a huge amount of sadness".
Divisions within the party had created "huge negative camps", he claimed, adding: "There is a spiral that is going on that's bringing it down."