Ex-border chief unveils illegal migrant amnesty plan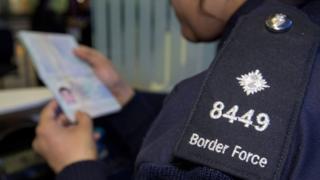 Migrants who have entered the UK illegally should be offered an amnesty, according to a former border chief.
Rob Whiteman, who led the Border Agency for two years, said it would make the post-Brexit system "manageable".
Knowing change was afoot could prompt further applications for visas and passports, he told the Guardian.
The UK is believed to be home to as many as 500,000 illegal migrants, although campaign group Migration Watch thinks the figure could be even higher.
Foreign Secretary Boris Johnson urged a similar plan during the EU referendum campaign - but said only migrants who had contributed to the economy and paid taxes for more than 12 years should be allowed to stay.
'Real progress'
Mr Whiteman - Border Agency chief executive between 2011 to 2013 - said the authorities faced a "massive" task dealing with their existing caseload and would have their hands full with the changes to the immigration system that would result from the UK leaving the EU.
"Scant resources are rightly focused on higher risk individuals, such as foreign-national offenders who are deported on expiry of their sentence," he wrote.
While the government had made real progress, better control could not reverse the fact the system has been abused and "some people are still here after many years", he said.
The vast majority of illegal migration cases are not active and staff resources could not cope if they were, he said.
"An appropriate amnesty would make our post-Brexit system manageable, optimise resources to focus on new cases and also strengthen border control around our lengthy coastline."
'End uncertainty'
Mr Whiteman acknowledged that allowing illegal migrants to stay would be "controversial", with some arguing that it may send the wrong signal to future would-be illegal entrants and could lead to their dependents overseas then applying too, increasing net migration.
"But the prize of taking a bold step will be considerable," he argued.
"It could shift the public mood with people here because they are allowed to be here, and would enable the government to tackle higher risk cases and improve its post-Brexit border operations."
An amnesty for appropriate cases would also end uncertainty for hundreds of thousands of people "in limbo" who are neither allowed to stay but likely to never leave or be deported, he added.
Mr Whiteman, who is now chief executive of the Chartered Institute of Public Finance and Accountancy, conceded that the next five years would see considerable work for Home Office staff managing the border, immigration and passport systems.
He argued that it is doubtful the department, even with more staff, will cope easily with the new workload "unless a line is drawn on much of the historic caseload, often going back many years".
Home Secretary Amber Rudd recently announced a fresh crackdown on illegal immigration.
From December, landlords knowingly letting rooms to illegal migrants will be liable for prosecution while next year banks will have to carry out regular checks to ensure their customers are entitled to be in the UK.