Labour reshuffle: Peers rejoin shadow cabinet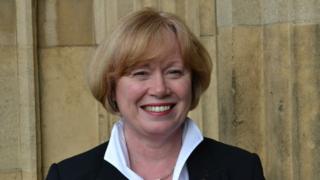 Labour's leader and chief whip in the Lords have returned to the shadow cabinet after a four-month boycott.
Shadow Lords leader Baroness Smith of Basildon and Lord Bassam stopped attending as part of the wave of resignations in June.
A spokesperson said they had taken the decision after consulting with a wide range of colleagues.
The announcement follows the return of 10 MPs to the shadow cabinet who left the front bench over the summer.
The pair resumed attendance at Tuesday's meeting of Mr Corbyn's newly configured team.
A Labour Lords spokesperson told the BBC: "In light of recent developments, they have spoken to a wide range of colleagues in the Labour peers group.
"With major votes coming up in the Lords - and our peers continuing to play a key role in scrutinising legislation, and advising on Brexit - both Angela and Steve will resume attending shadow cabinet and speak for our group."
The pair refused to attend shadow cabinet meetings but did not resign from their posts because they were elected by colleagues in the upper chamber rather than appointed by the party leader.
The Labour MP for Basildon until 2010, Baroness Smith served as a Cabinet Office minister under Gordon Brown's government. She kept the position she had held since May 2015 under Mr Corbyn.