Boris Johnson: Russia risks becoming pariah over Syria bombing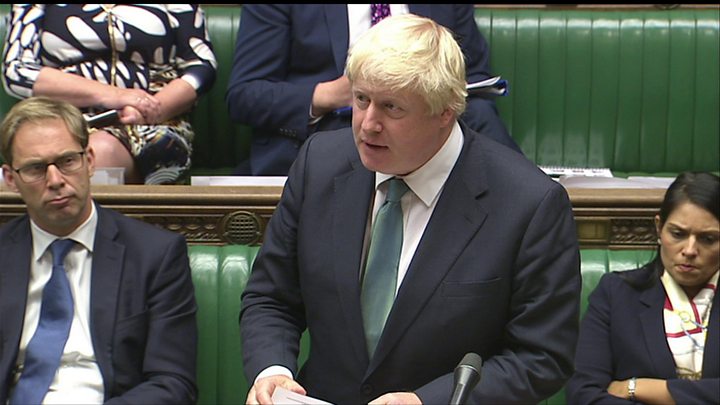 Russia is risking becoming an international "pariah" following its bomb attacks in Syria, UK Foreign Secretary Boris Johnson has said.
He told MPs he would "like to pursue" those responsible for attacks on hospitals and a humanitarian convoy as war criminals.
Earlier, former cabinet minister Andrew Mitchell likened attacks on the city of Aleppo to the raid on Guernica, Spain, by the Nazis in the 1930s.
Russia says it is targeting terrorists.
The northern Syrian city of Aleppo has become a key battleground in the country's bloody five-year civil, with a UN relief convoy being attacked from the air last month - an action widely blamed on Russia.
Russian President Vladimir Putin's government - which supports the government of Bashir al-Assad - has denied carrying out the action.
The UK government has strongly criticised Russia's bombing of Syria, while French President Francois Hollande has suggested Russia could face war crimes charges over its actions in Aleppo.
Mr Putin has cancelled a visit to France after Mr Hollande he would only talk to the Russian leader about Syria.
Ending a three-hour debate on the situation in Syria, Mr Johnson, in his first Commons speech since becoming foreign secretary, condemned "deliberate attacks on humanitarian convoys".
He told MPs he would "like to see" demonstrations against Russia's actions take place outside the country's London embassy.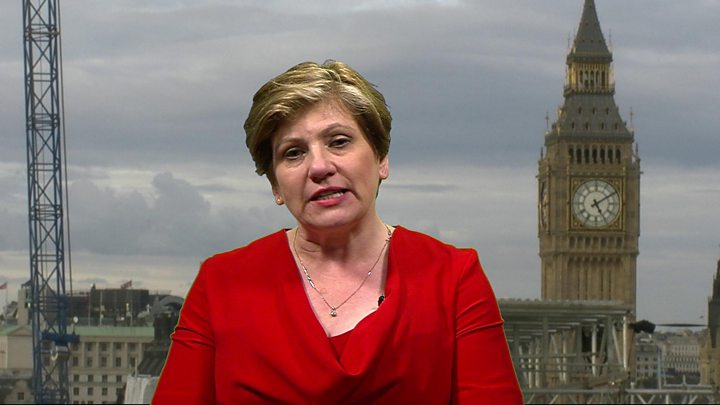 Mr Johnson added: "I'm personally very attracted to the idea of getting these people to come before the International Criminal Court. That's certainly something I would like to pursue."
He said: "If Russia continues on its current path then I believe that that great country is in danger of becoming a pariah nation."
But Mr Johnson played down suggestions that a no-fly zone could be imposed to prevent further Russian bombings, adding this would be impossible to enforce "unless we are prepared to shoot down warplanes".
The Russian Embassy in the UK hit back at Mr Johnson on Twitter, saying: "Very unusual call from the foreign secretary to hold demonstrations in front of the Russian embassy.
"New form of British diplomacy?"
It called on the Foreign Office to produce proof of its claims about Russia's actions in Syria.
Earlier, Mr Mitchell, a former international development secretary, opened the debate by accusing Russia of helping a "barbaric bombardment" of Aleppo.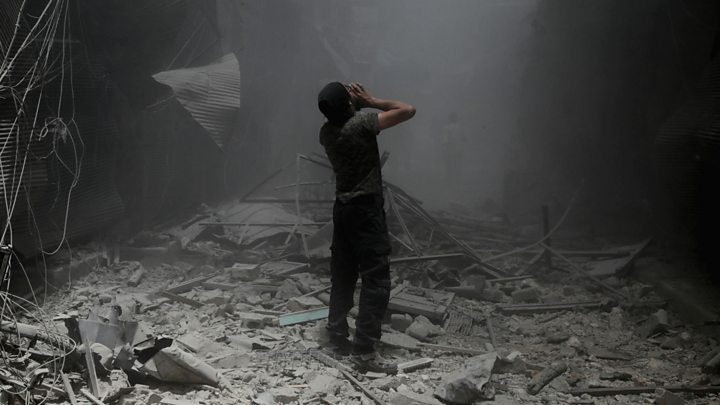 He also said it should be treated as a "pariah", saying: "The Kremlin, like any bully, is winning credibility if no-one stands up to them."
Mr Mitchell also said: "What Russia are doing to the United Nations is precisely what Italy and Germany did to the League of Nations in the 1930s. And they are doing to Aleppo precisely what the Nazis did to Guernica in the Spanish Civil War."
In 1937, the Spanish fascist dictator Francisco Franco allowed the ancient Basque capital of Guernica - which had held out against the advances made by his army since the beginning of the civil war the previous year - to be bombed by Germany's air force.
More than 1,600 people died, but Franco denied the raid had taken place. The events provoked international outrage and inspired the anti-war painting Guernica by Pablo Picasso.
For Labour, shadow foreign secretary Emily Thornberry said there had to be "strong statesmanship" and "not more brinkmanship" in dealing with the crisis in Syria.
She told MPs: "There are a number of war crimes that have been committed during this terrible war. There are the war crimes of Assad and Russia and there are the war crimes of the Jihadists." Ms Thornberry said she expected those responsible to be tried by the International Criminal Court.
Last month Prime Minister Theresa May said the UK would "never intentionally strike or focus on Syrian forces", after Britain confirmed it had taken part in air strikes that killed dozens of Syrian troops.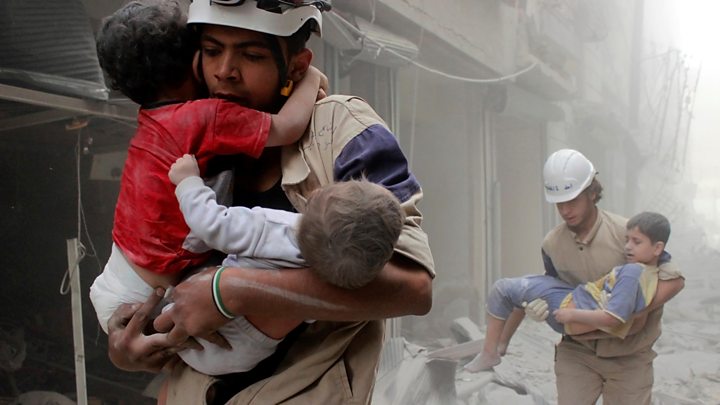 At least 62 Syrians were killed in the strikes, as the US said it might have accidentally hit a government position.
Last week Russia vetoed a Franco-Spanish UN Security Council resolution calling for an end to the bombing.
In a strongly worded statement issued on Monday, the Russian government rejected the UK's criticism of its actions in Aleppo and questioned the UK's own contribution to military and humanitarian efforts.