Corbyn wanted 'fresh approach' following reshuffle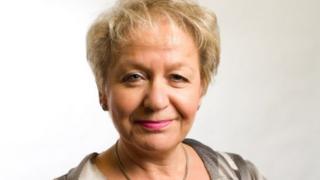 Shadow chancellor John McDonnell has defended the sacking of chief whip Dame Rosie Winterton, saying Jeremy Corbyn felt a "fresh approach" was required.
He told the BBC her replacement, Nick Brown, was a "peacemaker" who could bring people together.
He spoke out as Mr Corbyn urged Labour MPs to unite behind his leadership, as he prepares to face them for the first time since he was re-elected as leader.
The Parliamentary Labour Party meets at 18:00 on Monday.
Mr Corbyn is expected to get a rough ride when he addresses MPs, with PLP chairman John Cryer complaining that he had not been informed about the shadow cabinet reshuffle - a claim rejected by new shadow home secretary Diane Abbott.
Many Labour MPs were upset by Mr Corbyn's decision to appoint Nick Brown as Dame Rosie's successor as opposition chief whip - a role he had previously held under Tony Blair and Gordon Brown.
The news was swiftly followed by the resignation of two Labour MPs from the shadow whips' office.
Holly Lynch tweeted it was "time to focus" on her marginal constituency, while Conor McGinn said it was the "right time" to concentrate on his seat and his family.
'Broad shadow cabinet'
Asked about the decision to oust Dame Rosie, Mr McDonnell said: "I think there was a view there needs to be a fresh approach.
"We needed someone who's really experienced like Nick Brown - he's a peacemaker - he's the sort of person who brings people together, and I think Jeremy thought we need to move forward on that.
"The shadow cabinet is now being put into position - again it's a broad shadow cabinet, left, right and centre as all shadow cabinets in the past successfully have been."
Mr McConnell said "most" of the junior minister positions had now been filled.
However, from the announcements made so far, there appear to be dozens of vacancies.
'Welcome back'
In a message to members of the PLP, Mr Corbyn praised those who had agreed to serve on his front bench, but he made no mention of calls for the return of shadow cabinet elections - a move supported by a large tranche of Labour MPs .
As his reshuffle continued, Mr Corbyn said 10 MPs who had left the front bench in a mass walkout over the summer were returning.
They are:
Jack Dromey
Pat Glass
Sharon Hodgson
Roberta Blackman-Woods
Kevin Brennan
Louise Haigh
Jenny Chapman
Matthew Pennycook
Nick Thomas-Symonds
Emma Lewell-Buck
Mr Corbyn said: "I am pleased to announce the appointment of 21 MPs to our front bench, 14 of whom are women and four of whom are from the black and minority ethnic community.
"I welcome back the 10 who have returned, and look forward to working with the eight talented MPs joining the front bench for the first time."
Meanwhile, there were reports on Sunday that Labour rebels were planning to form their own "shadow shadow cabinet", in competition with the front bench, to produce its own policy initiatives.