Conservative Party conference: Leaders' speeches past
By Esther Webber
Political reporter, BBC News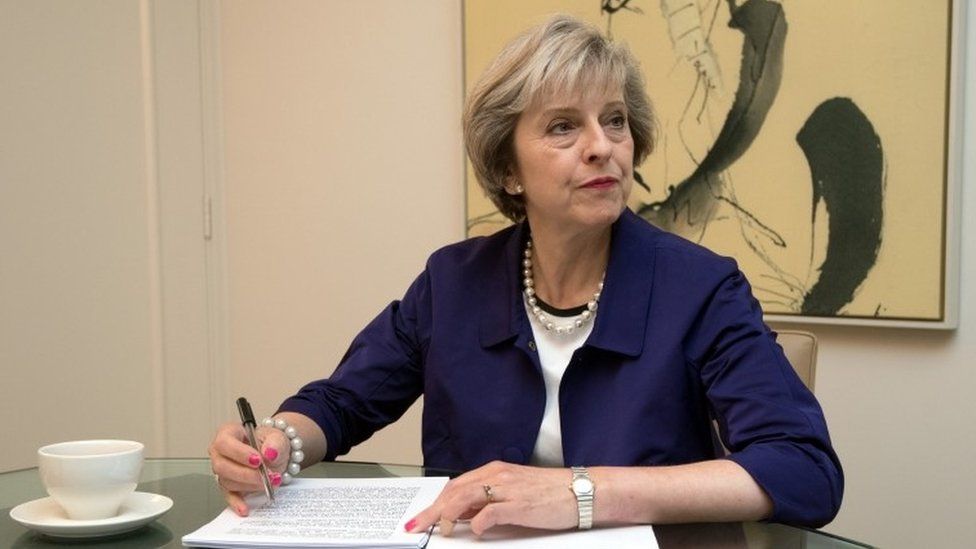 As Theresa May gives her first speech to party conference as leader, what did her predecessors say and how were they received?
In 1965 Ted Heath made two speeches and stayed at the conference throughout, which represented a break with tradition. Before then, the leader descended on the conference at the end to deliver their oration. He said in his memoirs he "wanted to show that members of the shadow cabinet and I were interested in all the views expressed on different resolutions at the conferences".
On the economy: "Did you notice that [secretary of state for economic affairs] George Brown in one of his happier moods said, 'This has been a great year for Britain.' A great year for Britain? Do we really read it aright?
"Where has he been living all this time? Has it been a great year for industry? The longest period of 7% bank rate since 1921. The toughest credit squeeze since the twenties. Investment and modernisation programmes curtailed. Costs rising and production static."
On Rhodesia: "A unilateral declaration of independence would be invalid. Its impact would have the gravest consequences."
Best gag: "Poor Mr Jay [president of the Board of Trade] - reduced to carrying George Brown's bags to international conferences. When there is good news, that is; when there is bad news he has to open the bag and read it himself."
How it went down: The Times reported that the party faithful saw their leader in a "new light", writing: "Gone was the dry atonic dullness of the Brussels negotiator; gone were the strident polemics of the opposition front bench. The Mr Heath who presented himself to the faithful today was calm and unemphatic, but he had also acquired a new light and shade in delivery which held his audience even through the dull patches."
Margaret Thatcher addressed her party conference as leader for the first time in 1975, and paid tribute to her predecessor Ted Heath. She did not dwell on her own story and the only policy she outlined was scrapping hospital pay beds, but she set about her critique of Labour and her alternative vision in a way which was to make a lasting impression on her party.
On the economy: "It is the Labour government that brought the level of production below that of the three-day week in 1974. We have really got a three-day week now, only it takes five days to do it. It is the Labour government that has brought us record peace-time taxation.
"They have the usual socialist disease: they have run out of other people's money. It is the Labour government that has pushed public spending to record levels. How have they done it? By borrowing and borrowing. Never in the field of human credit has so much been owed."
On communist regimes: "Whenever I visit communist countries their politicians never hesitate to boast about their achievements. They know them all by heart; they reel off the facts and figures, claiming this is the rich harvest of the communist system. Yet they are not prosperous as we in the West are prosperous, and they are not free as we in the West are free."
Best gag: "I sometimes think the Labour Party is like a pub where the mild is running out. If someone does not do something soon all that is left will be bitter, and all that is bitter will be Left."
How it went down: Mrs Thatcher was received with "rolling breakers of cheers, shouts, and foot-stamping" in a scene which was "for all the world like an American convention", according to The Times. That paper's political editor saw that those who had helped her to the leadership are "only now beginning to fully realise her formidable strength and skills".
John Major took over from Margaret Thatcher in November 1990, so he did not address conference until the following year when he opened on a rather more personal note than his predecessor. He told conference it was a "long road from Coldharbour Lane (in Brixton) to Downing Street".
On choice: "I want to give individuals greater control over their own lives. Every mother, every father, a say over their child's education. Every schoolchild, a choice of routes to the world of work. Every patient, the confidence that their doctors can secure the best treatment for them."
On Europe: "I believe strongly in partnership in Europe. Britain, as a great European power, has gained from our membership of the (European Economic) Community. That is the verdict of those people in our country who live by business, banking and trade, the very people on whom our prosperity and jobs depend. But it must be the right Europe."
Best gag: "A great deal has been written about my education. Never has so much been written about so little."
How it went down: The Times observed his speech "may not have sparked the frenzied flag-waving abandon of the Thatcher years", but he was judged to have "won the affection of constituency activists with his quotes from personal experience" and by "emphasising his image as a man of the people". He found a "nice holding line" on Europe, and was described as "the party's biggest electoral asset".
William Hague made his first conference speech as leader in 1997 - but of course it was not the first time he had addressed the party faithful. That came 20 years earlier, when he made a memorable speech in Blackpool aged 16. Mr Hague's leader's speech ended a conference that was seen by many as a bloodletting process at a time of deep divisions in the party.
On the party: "I have no illusion about the mammoth task ahead of us. But I pledge with every breath in my body to do everything in my power to rebuild this party."
On the Amsterdam Treaty: "Amsterdam was a bad treaty. Bad for Europe and bad for Britain. And Tony Blair signed up to it lock, stock and barrel."
Best gag: "Remember how Harold Wilson had his famous labrador? Now, for the second time in our lifetime, we have a Labour prime minister with a faithful pet called Paddy."
How it went down: It was perhaps lacking the laugh-out-loud lines which he is known for. The Times called it "an unshowy and old-fashioned speech delivered with relaxed good humour, the new leader steadied nerves a little. He was received with something better than acquiescence and something less than rapture."
Iain Duncan Smith's most memorable conference moment was surely his speech in 2003 when he attempted to silence critics of his leadership style, saying: "The quiet man is turning up the volume." But his first speech as leader in 2001 came four weeks after 9/11 and had a heavy focus on terrorism and security.
On 9/11: "This war against terrorism is our war. The cold, callous and merciless attacks in America were the work of terrorists who knew no moral limits. They have struck before, they will strike again - we are right to strike at them.
"We cannot secure peace by standing aside from war. We cannot end danger by putting safety before our friends. We cannot conquer fear, by fearing to act ourselves."
On his background: "I was brought up in a family where public service wasn't just a shorthand for the public sector: it was a way of life. Life in the Forces left an indelible imprint on my childhood, so much so that I too became a soldier. I don't want to idealise Army life. But it was a life where loyalty, duty and honour counted."
He didn't go in for gags, unsurprisingly, in what was a rather sombre speech, but there was some playful understatement in his acknowledgement that life as an MP "had frankly had its ups and downs".
How it went down: The Times said Mr Duncan Smith "had been suffering from a cold and occasionally appeared to struggle with his delivery" and "some senior Tories expressed surprise" he didn't mention the 2001 general election defeat, or his predecessor William Hague. Peter Riddell's verdict was that on this occasion "obscurity and harmony have gone hand in hand".
Michael Howard's first speech as leader focused more on policy and timetables than any attempt to revamp the party's underlying philosophy. "I'll give it to you straight," he told conference.
On his message: "So when people ask you on the doorstep, 'I can't stand Tony Blair, but why should I vote for you lot?' Here are 10 words to remember. School discipline. More police. Cleaner hospitals. Lower taxes. Controlled immigration."
On Europe: "Power has gone from Britain to Brussels. And that's not what the British people voted for. Let's face facts. What has happened on tax and on Europe has damaged people's faith in politics. So it's hardly surprising that people don't trust politicians today."
On his background: "My grandmother was one of those killed in the concentration camps. If it hadn't been for Winston Churchill, and if it hadn't been for Britain, I would have been one of them too. That's why when I say I owe everything I am to this country, I really do mean it. I owe my life to it."
Best gag: "I was born and grew up in South Wales. As you may have heard, we've just been left off the new EU map. I know people in Brussels feel strongly about Neil Kinnock, but I really do think that is going too far."
How it went down: The Times found that Mr Howard "stamped his personality and authority on the Conservative Party" with a "hardline message on crime, immigration, tax and discipline". His speech was described as "softly spoken" and "there was no synchronised flag-waving - it was all very grown up."
David Cameron gave his first speech as leader in 2006 - and it was seen as relatively restrained compared with his outing the previous year when he gave a memorable speech without notes on accepting the leadership and urging the party to embrace "modern, compassionate" Conservatism.
On success: "Our party's history tells us the ground on which political success is built. It is the centre ground. Not the bog of political compromise. Not the ideological wilderness, out on the fringes of debate. But the solid ground where people are.
"The centre ground is where you find the concerns, the hopes and the dreams of most people and families in this country."
On Europe: "Instead of talking about the things that most people care about, we talked about what we cared about most. While parents worried about childcare, getting the kids to school, balancing work and family life - we were banging on about Europe."
On the future: "Let optimism beat pessimism. Let sunshine win the day. And let everyone know that the Conservative Party is ready. Ready to serve. Ready to fight. Ready to win."
Best gag: "Tony Blair says it's all style and no substance. In fact he wrote me a letter about it. Dear Kettle… You're black. Signed, Pot."
How it went down: The BBC's analysis called it "a low-key performance at the end of a low-key conference" which was "designed to send out some core signals to his party and voters".
He was seen to have "put the NHS and the family centre of his agenda, to go green even if it hurt and - once again stealing Tony Blair's discarded clothes - to be tough on the causes of crime". But "there were a couple of sentences which sent distinct shudders through some of the delegates" such as references to the NHS being one of the greatest achievements of the 20th century and support for same-sex marriage .