Labour conference: How do activists think Brexit will change Britain?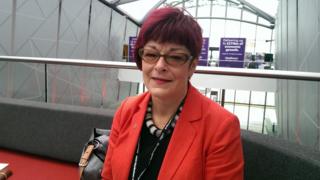 What good will come of Brexit?
It is a difficult question to ask at a conference where the UK's vote to leave the EU has, so far anyway, been virtually banished to the sidelines.
But like, Banquo's ghost, it is hovering in the background and although nearly all Labour members I spoke to voted to remain in the EU, there is a measure of realism about what lies ahead.
"It could well be that it drags on for so long and takes so long to sort out, maybe in that sense we won't notice it," Sonia Barker, leader of the Labour group on Waveney District Council in Suffolk.
As a Remain voter, she was in a distinct minority in a Eurosceptic area where 68% of people voted to leave the EU.
What has been the reaction since then? "For those who wanted to leave the initial feeling was 'yes we have had a go at the system and establishment'," she says.
"When I talk to people now in the street, in the Co-op or door knocking, they are saying I am not really sure and I am having to say I don't really know any more than you do."
'Brexit means what?'
For her, silver linings are hard to find and the potential damage to major employers, such as the fishing industry and agriculture, are particularly troubling.
"If you are in reasonable well-off area you probably won't notice it so much, if you are in a rural area and your farming subsidies are cut, you will notice it a lot.
"The people who argued for Leave said fishing would benefit. We need to see what that means on the table rather than just repeating the mantra Brexit means Brexit."
Research since the referendum has suggested 65% of Labour voted to remain and 35% to leave.
Although they are plenty in Liverpool who believe the Brexit vote merely "reinforced" an anti-immigrant narrative amplified by the media, there are others who accept that it was a wake-up call that has to be be heeded.
"Brexit ought to force us back to first principles on those issues of patriotism, identity and the sense of who we are as a nation," says Mark Sudan, from Crawley.
"From the point of Labour, what Brexit has forced us to do is to take a hard look at the type of concerns and the sense of marginalisation and alienation of many of our communities that have felt neglected over the past 20 years.
"Outside of London and south east, people feel they have been ignored and discounted by a metropolitan elite and their concerns and anxieties over the changing nature of their communities have not been understood."
Rock and a hard place
If there is anyone who would struggle to accentuate the positive out of the Brexit vote, then it is surely Gibraltar - the overseas territory which voted by a margin of 96% to 4% to remain in the EU.
While the vote was the "exact opposite" of what it wanted, Gibraltar's representative to the UK - who is attending the conference - is perhaps as phlegmatic as he could be expected to be about the future.
"The one thing that is true of Gibraltar and its population over 300 years, we have always operated with challenges of quite a scale - hundreds of years of sieges, military and otherwise," Dominique Searle says.
"I don't think there is any doubt we will survive... We are always thinking of new ways of getting on."
Continued free trade with the UK is imperative as is access to the single market and freedom of movement, he says, given there are several thousands British citizens who live in Spain but cross the border every day to work on "the rock".
"The big negative - it has not happened yet and may not happen yet - depends on the attitude of Spain. We hope a modern European state would want to have good relations with territories even when they are not part of the EU.
"One reads positive spins on Brexit. If we are part of and share in Brexit these things will balance out - there will be winners and losers in business as there always are."
Young people
Attitudes expressed towards to the Labour leadership are not overly flattering when it comes to Europe.
Tom Bell, from south London, says the party's EU referendum campaign was a "disgrace" and talk of a "people's Brexit" from some people on the left is "a delusional oxymoron".
Gordon Cooper, from Southampton, suggests the leadership couldn't really care about the issue and scoffs at Ed Miliband's suggestion that the confusion caused by Brexit offers an opportunity for the opposition.
Do people think leaving the EU will make people's lives better in any way?
Although he voted remain, Richard Bruckdorfer, from Bedford, says he believes the EU's treatment of Greece was symbolic of its growing neo-liberalism and that, outside of the EU, a future Labour government would be potentially able to do more to improve workers' rights and social welfare in general.
Sonia Barker hopes the Brexit vote will be a catalyst for political reform, with 16-year olds given the vote and young people "given a seat at the table".
"Young people voted in high numbers. It is a myth they didn't. Young people are the ones who will be affected most by this. If young people are put at the centre of decision-making, that is a good thing that can come out of this."