'I'll be the same Jeremy Corbyn'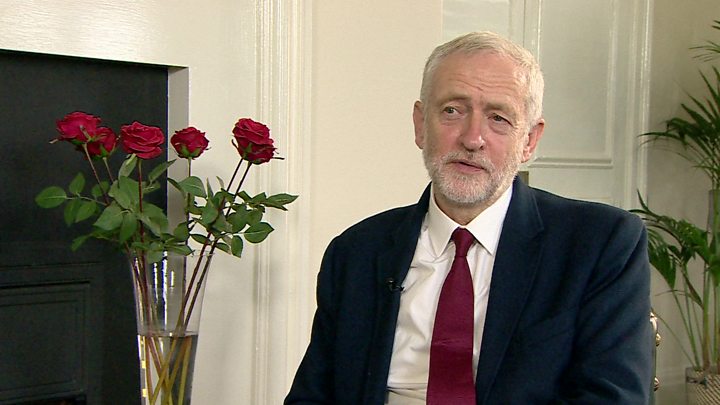 Jeremy Corbyn wasn't joking when he said that he had an olive tree, heavy with branches to be lopped off and offered to his restive MPs. In fact, he has two - one in a pot on his extremely sunny balcony outside his Westminster office, and a bigger one in his garden at home.
While I won't be the first to say it, after an astonishingly turbulent year for the Labour Party under his leadership, he is likely to need more than a few olive branches to get his party to kiss and make up.
If MPs and the leader are going to reconcile then something is going to have to give. Mr Corbyn told me that after a bruising summer he was ready to "wipe the slate clean".
He claims that MPs have been phoning him to talk about how the party can unite after his expected victory in the leadership contest in Liverpool on Saturday. And he said he believes that by 2020 he can build the significant upsurge in the party's membership into a wider movement that will be capable of winning the General Election in 2020.
While it's clear he wants to make peace with the Westminster party it is not clear that he thinks he needs to do anything differently second time round.
'Give him a chance'
I asked him what would be different under Jeremy Corbyn's leadership mark two. He said: "Sadly for everyone I'll be the same Jeremy Corbyn."
He's said on many occasions that he wants to reach out to MPs, and called again on those who've opposed him to unite, but although he said he had listened to MPs and taken their criticisms on boards, he said that his "record over the last year of reaching out is second to none".
That view is unlikely to be shared by many of his Westminster colleagues. Nor is his suggestion that Michael Foot - one of Labour's worst ever performing leaders - "did a good job".
Yet for Mr Corbyn's supporters, passionate and growing in number, it's Labour MPs who have to change, get behind their leader, and keep their concerns to themselves. As one activist summed it up, "why should he not be given a chance? We feel differently about him and we feel he can do something." With only three days to go until the leadership result is announced, it's no clearer how the Labour Party will heal itself.
PS: After those eight hours of discussion at the NEC last night, Jeremy Corbyn's view on introducing shadow cabinet elections appears to be less than enthusiastic. He told me there has to be "discussion about the necessity of the leader being able to appoint key positions in the shadow cabinet". And on Tom Watson's suggestion - now rejected - that the party looks again at the rules of the leadership contest where new members and supporters can sign up to take part, he said: "I think we have to stick with one member one vote… Under the old system an MP would be worth several thousand party members' votes. I don't think that's a very good way of doing things."
PPS: You can read about our interview with the other leadership contender, Owen Smith, here.