Tony Blair to close most of his commercial ventures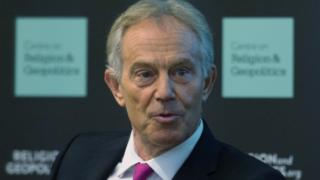 Tony Blair has said he is winding up most of his commercial ventures to focus on not-for-profit work.
The ex-Labour prime minister is closing his lobbying and consultancy business, Tony Blair Associates, and associated companies Windrush and Firerush.
In an email to staff, he said while he would retain a small number of commercial contracts, 80% of his time would be spent on not-for-profit work.
He has been criticised for the amount of profit the ventures have generated.
Mr Blair, who left frontline politics in 2007, is reported to have made millions advising a number of foreign governments and multinational firms.
Although the full range of his business activities has never been disclosed, Mr Blair was reported to have been paid £2m a year alone by JP Morgan after leaving office.
Earlier this year, it was claimed he had a lucrative deal advising the Kazakh government.
His links with Kazakh president Nursultan Nazarbayev, who has ruled the country since 1989 and whose human rights record has been condemned, have been controversial.
Mr Blair, however, has rejected claims of any conflict of interest between his commercial and his not-for-profit work.
His not-for-profit ventures include his Faith Foundation and the Centre for Geopolitics and Religion, which focuses on addressing the root causes of Islamist extremism and supporting inter-faith dialogue.
Following a review of his business interests, Mr Blair said he had decided to refocus his activities and would give the "substantial financial reserves" generated by his businesses in recent years to not-for-profit causes.
'New level'
In an email, he said: "Over the past nine years we have built a group of organisations employing around 200 people and working in more than 20 different countries round the world. It is time to take this to a new level.
"As I indicated last December at our annual all staff meeting, I want to expand our activities and bring everything under one roof.
"I also want now to concentrate the vast bulk of my time on the not for profit work which we do. De facto, this has been the case in the past two years but we need to reflect this change in the way we are structured."
He added: "I will retain a small number of personal consultancies for my income, but 80% of my time will be pro bono on the not for profit side."
Mr Blair, who is 63, was prime minister between 1997 and 2007. After stepping down, he served as a Middle East envoy for eight years. He and his wife Cherie also have substantial property investments in the UK.