Lib Dem activists call for scrapping of Hinkley nuclear plan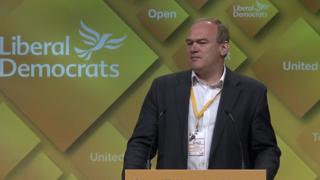 Liberal Democrat activists have backed calls for the proposed new nuclear reactor at Hinkley Point to be stopped.
Members approved a motion at the party conference urging the £18bn scheme, the first in a generation, to be scrapped.
Duncan Brack told members Hinkley was "spectacularly poor value for money" and breached party policy on subsidies.
But ex-energy secretary Ed Davey, who helped negotiate the original deal during the coalition, said nuclear had a role to play in a low-carbon economy.
Prime Minister Theresa May last week gave the final go-ahead to a new nuclear plant in Somerset - which would be financed by the French and Chinese governments - after imposing "significant new safeguards" to protect national security.
But critics say the proposed Hinkley Point C plant still represents a bad deal for taxpayers and the technology being proposed is unproven.
'Fallacy'
During an emergency debate on the issue in Brighton, Mr Brack - a former member of the party's powerful Federal Policy Committee - said the Lib Dems' existing policy was to oppose any future nuclear generation in receipt of public subsidies and Hinkley would get at least £2bn in government loan guarantees.
"We are against subsidy for nuclear and Hinkley is subsidy," he said. "It does not deserve subsidy. It is spectacularly poor value for money."
Renewable energy offered better value for money, Mr Brack said, with the cost of solar and offshore wind set to "plummet" by the time Hinkley was eventually built.
"The argument you need nuclear for baseload electricity is a total fallacy," he added.
"Nuclear stations are not on all the time. They have faults, they go off-line which means you have to build an equivalent amount of back-up to support them."
'Off the table'
But Mr Davey, who helped negotiate the "strike price" agreement determining how much the UK would pay for energy generated by Hinkley during the Tory-Lib Dem coalition, said the UK should not be dismissing any sources of low-carbon energy.
Urging members to vote against the motion, he said any current forecasts about the ultimate cost of the deal were a "mug's game" as people would need to know what the cost of energy and carbon would be between 2025 and 2060.
"We should not be taking nuclear off the table because of the risks posed to our children and their children by climate change," he said.
"We know we have to prepare our country and our world for the dangers of climate change and turn that around and Hinkley Point C plays a small part in that."