Cabinet should have seen Blair-Bush Iraq memos - Heywood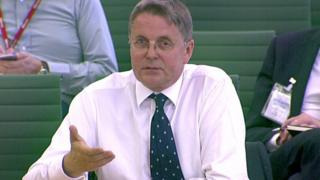 The cabinet should have been shown Tony Blair's private memos to George Bush in the run-up to the Iraq war, the UK's top civil servant has said.
Sir Jeremy Heywood said correspondence, including a note in which Mr Blair told Mr Bush that he "would be with you whatever" should have been subject to "collective approval" by ministers.
He queried if there had been a "spirit of challenge" at cabinet discussions.
Mr Blair's case for war was strongly criticised in July's official report.
The Chilcot report criticised Mr Blair for decisions that he and his ministers took in the run-up to the 2003 conflict and its aftermath, although it did not reach a verdict on the legality or otherwise of the military action.
Mr Blair has continued to insist the decision to remove Saddam Hussein was justified, although he has acknowledged that the intelligence on which it was based was flawed.
Appearing before the Public Administration Select Committee, the cabinet secretary said he and other civil servants were in the "preliminary" phase of learning lessons from the report in terms of how government should operate in future.
Asked about the degree of scrutiny UK policy towards Iraq received within government, Sir Jeremy said it was not a question of whether there were enough meetings of the cabinet to discuss the issue, but the attitudes of those sitting round the table.
"It is the most important thing in my view about the Chilcot inquiry," he told MPs.
"Do you have a culture in which senior officials, ministers and external experts feel it is possible to offer an alternative view to the prevailing wisdom so to avoid group think?
"A lot of what went wrong in Iraq was a generally held view about what intelligence meant or what WMD were there, which turned out to be wrong."
'Misunderstanding'
Sir Jeremy, who was principal private secretary to Mr Blair in the run-up to the war, said he was not aware whether the prime minister had been advised by more senior officials at the time that he should share details of more than 20 private memos he exchanged with Mr Bush in the 18 months before the conflict.
But asked what he would have done if he had been cabinet secretary at the time, he said he would have asked for a one-on-one meeting with the prime minister to say he "must really share this collectively if it is going to become government policy".
"Private memos from the prime minister to the president of the US setting out what the government's position is should have been subject to collective approval and would be today," he said.
Asked whether he had any regrets about how long the report had taken, Sir Jeremy said it would have been "desirable" if the inquiry, which began its work in 2009, had finished its work in either 2010 or 2011 and he shared the "general frustration" about it.
A "general misunderstanding", he said, had been allowed to build at the outset about how long the report would take but he "could not remember" who had suggested that it could be completed more promptly.
'Travesty'
He said the inquiry's vast terms of reference and the amount of material that it had to examine, including thousands of declassified documents, meant that it was difficult to see how it could have been expedited without either narrowing its scope or splitting it into separate reports - which he said chair Sir John Chilcot did not believe was tenable.
"It was inevitable that it was going to take much longer than initially advertised and it is that first advertising that set the completely wrong timeframe in people's heads.
"Lots of inquiries have taken this amount of time. Inquiries do take a long time."
Several MPs on the committee pointed out that MPs on the Foreign Affairs Committee had concluded their report into the UK's involvement in the 2011 Libyan conflict - published on Wednesday - in less than 18 months.
Conservative MP Bernard Jenkin said the length of time that the Iraq report had taken was a "travesty" and it had caused considerable "pain and heartache" for the relatives of British service personnel killed.
"Everyone apart from you agrees that it took far long," he said.
But Sir Jeremy said this was unfair, describing the report as an "outstanding piece of work" that was, in his opinion, comprehensive and authoritative.
While history would judge its value, he said the early reaction had been positive in terms of the "credibility of conclusions, rigour of its analysis and the comprehensiveness of its scope".