Keith Vaz 'paid for male escorts', Sunday Mirror claims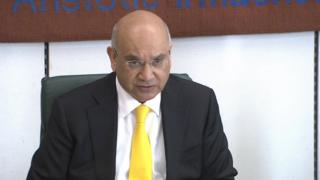 Labour MP Keith Vaz paid for the services of male escorts, the Sunday Mirror has reported.
The married father-of-two paid for the men to visit him one evening last month at a flat he owns in London, it claims.
The Leicester East MP, 59, said he was referring the claims to his solicitor.
Several newspapers report that Mr Vaz is to step down as Home Affairs Select Committee chairman but he has not confirmed this, saying he will tell the committee his plans first on Tuesday.
'Privilege'
He said: "It is deeply disturbing that a national newspaper should have paid individuals to have acted in this way.
"I have referred these allegations to my solicitor Mark Stephens of Howard Kennedy who will consider them carefully and advise me accordingly."
He also described it as a "privilege" to be the chairman of the select committee, which monitors crime and drugs policy, for the past nine years.
"I will of course inform committee members first of my plans when we meet on Tuesday. My decision has been based entirely on what is in the best interests of the committee."
Meanwhile, Labour leader Jeremy Corbyn described the allegations as a "private matter".
He said: "He [Keith Vaz] is going to meet the Home Affairs Select Committee and discuss with them what his role will be in the future, I'm not sure what his decision will be I will leave it to him to decide on that.
"He has not committed any crime that I know of, as far I'm aware it is a private matter."
---
Keith Vaz biography:
Born to Goan parents in Aden, Yemen, he went to Cambridge University where he studied law and then became a solicitor
The Labour Party politician has been MP for Leicester East since 1987
He is Parliament's longest-serving British Asian MP and has chaired the influential Home Affairs Select Committee since 2007
He was Britain's Minister for Europe under Tony Blair and said the vote to leave the EU was a "catastrophe"
His sister Valerie is Labour MP for Walsall South
Keith Vaz - the 'Teflon politician'
---
According to the Sunday Mirror, Mr Vaz's meeting with two male escorts included a discussion about using the party drug known as Poppers.
Mr Vaz had opposed government attempts to criminalise the drug. Ministers later announced they would remain within the law.
His committee is also currently overseeing a review of the UK's prostitution laws.
In response to Mr Vaz's statement criticising the Sunday Mirror, a spokeswoman for the newspaper said the company did not want to be drawn into an argument on the details but said the paper "stands by the story".
'Dreadful time'
When asked about the allegations, shadow health secretary Diane Abbott said: "I've known Keith for over 30 years. I think this must be a dreadful time for him and his family - his wife and his two children - and I'd rather not comment."
Conservative former Culture Secretary John Whittingdale said it was right for Mr Vaz to temporarily step aside.
"Keith Vaz, as I understand it, has said he will stand aside from the chairmanship and, given the areas for which the committee is responsible, that does seem to me to be a sensible course of action."