Lord Sainsbury gives to Labour and Lib Dems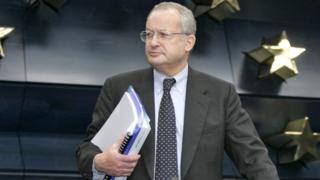 Businessman Lord Sainsbury gave over £2m to both Labour and the Liberal Democrats, new donation figures reveal.
The supermarket tycoon, a former Labour minister, was the largest donor in the second quarter of 2016.
He said the donations were part of his attempts to keep the UK in the EU ahead of June's Brexit vote.
Labour reported the most donations over the period from April to June, with £6,186,695. The Tories got £4,321,937 and the Lib Dems £2,867,678.
Tim Farron's party welcomed the donations from Lord Sainsbury, who according to Electoral Commission records had not previously given to the party.
He gave the Lib Dems a total of £2,125,000 in four donations.
"We have enormous respect for Lord Sainsbury, and we see his help in the referendum campaign as a huge endorsement of this party's campaigning strength and our unequivocally pro-European ideals," a party spokesman said.
Lord Sainsbury, who also backs New Labour pressure group Progress, bankrolled the breakaway Social Democrats in the 1980s and served as a Science Minister under Tony Blair.
He gave a total of £2,150,000 to Labour over the three-month period.
He said: "During the last two years, I have helped put together the Stronger In Europe Campaign, and have provided them with funds.
"I have also made donations to the Labour Party, the Liberal Democrats, and a number of other registered bodies.
"I did so because I believe strongly that coming out of Europe will be damaging to our economy and society, and dangerously so if we come out of the common market."
He added: "I am sorry that we failed to convince the British people as I believe the dangers of Brexit are very real, and I hope that thoughtful and careful leadership by the new prime minister will mean that my worst fears are not realised."
Labour also received £816,559 from the Unite union and £604,411 from Unison, the quarterly figures show.
The Conservatives' biggest individual donor was businessman Gerardo Lopez Fojaca, who gave the party £400,000.