Jeremy Corbyn angered by train seat row questions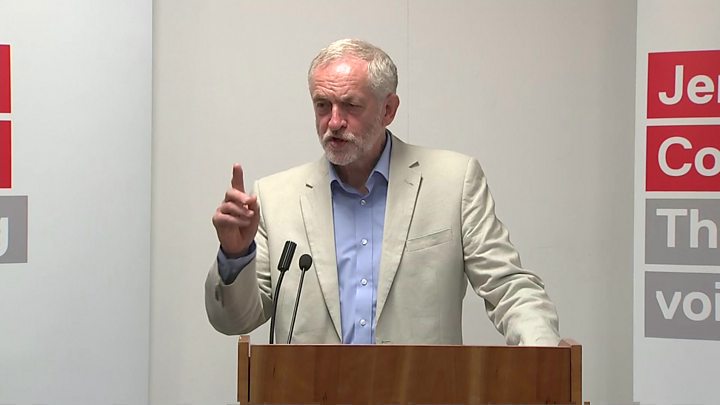 Jeremy Corbyn has reacted angrily to questions about his spat with Virgin Trains tycoon Sir Richard Branson.
He said he hoped the businessman was "well aware" of his plans to nationalise rail operators.
Sir Richard has challenged the Labour leader's claim in a video that he could not find a seat on the "packed" train.
Mr Corbyn tried to close down questions about it at a tetchy press conference, saying he had been searching for two seats next to each other.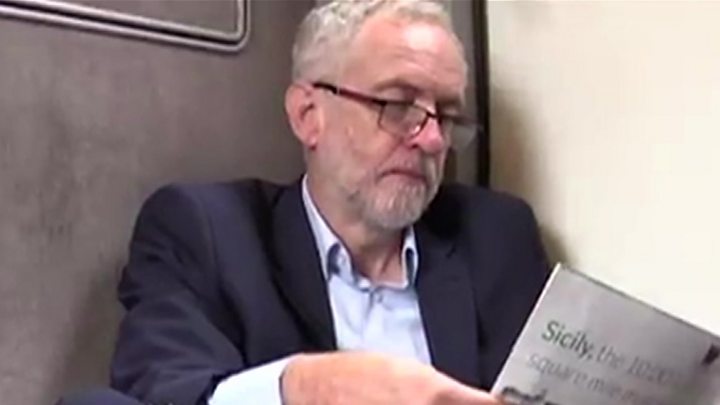 He told reporters his press conference was to talk about his NHS policies, but he eventually relented, saying: "I am very pleased that Richard Branson has been able to break off from his holiday to take this issue seriously and with the importance it obviously deserves.
"I hope he is very well aware of our policy, which is that train operating companies should become part of the public realm, not the private sector."
He added that he was looking forward to meeting Virgin Trains to discuss regulatory issues that needed to be addressed "even before we take them back into public ownership".
In a film shown on The Guardian last week, Mr Corbyn said, while sitting on the floor between carriages on a London to Newcastle train, that he was experiencing a problem "many passengers face every day".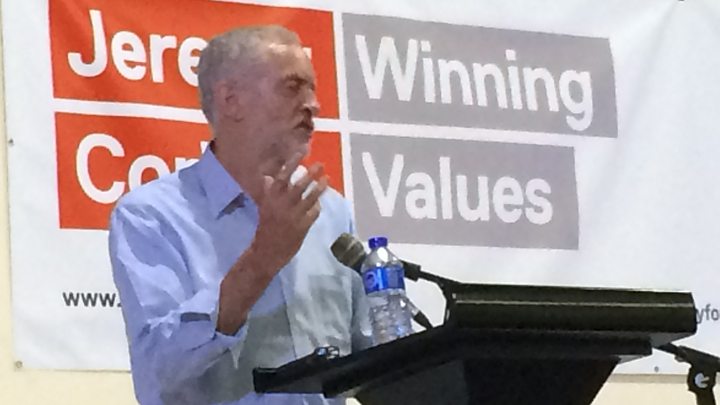 But Virgin released CCTV footage on Tuesday showing Mr Corbyn and his team walking past available seating before starting filming.
At his press conference, Mr Corbyn said: "Yes, I did walk through the train. Yes, I did look for two empty seats together so I could sit down with my wife, to talk to her. That wasn't possible so I went to the end of the train."
He said the train manager, "who was a very nice gentleman", had offered him an upgrade to First Class, which he had declined.
"He then, very kindly, did find some seats and, after 42 minutes, I went back through the train to the seats that had been allocated."
On Tuesday, Mr Corbyn's team said he had been "unable to find unreserved seats" so sat at the back of the train with other passengers, saying the apparently empty, unreserved seats he walked past had bags on them.
Sir Richard Branson tweeted a link to the CCTV images on Tuesday, saying Mr Corbyn had "walked past empty unreserved seats then filmed claim train was 'ram-packed'".
Sir Richard's intervention prompted Mr Corbyn's leadership campaign manager Sam Tarry to tell BBC Radio 4's Today programme: "The bigger story here... it is quite astonishing that a tax exile of more than 10 years decides to lay into and make a political intervention which is essentially what this is on social media in a very public way."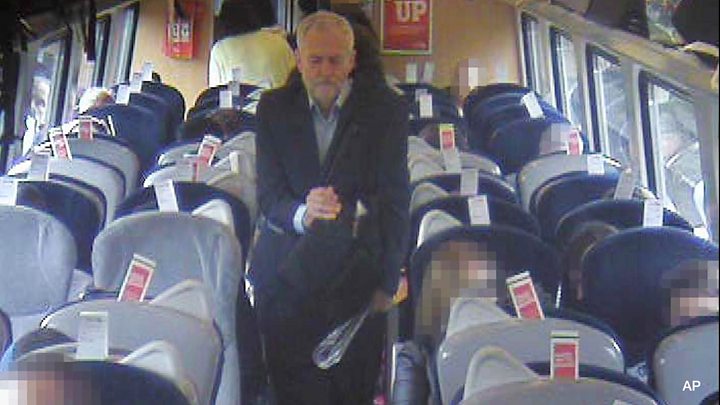 He continued: "I think it's quite clear - Richard Branson is literally laughing all the way to the bank at the British taxpayer's expense.
"Let's be clear about this and exactly what's going on here. No train operating company in this country would be able to actually turn a profit without the vast subsidies from British taxpayers."
Labour MP Owen Smith, who is challenging Mr Corbyn in a leadership contest, said he accepted Virgin's account of the journey.
He told BBC Radio 4's Today programme: "What is clear from the footage I've seen is that he had a seat on the train and there were seats on the train and he chose to sit on the floor for the purposes of the video.
"But I do think he was trying to make a legitimate point. Trains are overcrowded and I think we should be nationalising them in order to make sure they serve the British people rather better."
Data watchdog, The Information Commissioner's Office, has said it is "making inquiries" into the publication of CCTV images of Mr Corbyn on the train.
A spokesman said: "All organisations have an obligation to comply with the Data Protection Act and must have legitimate grounds for processing the personal data they hold.
"Where there's a suggestion that this hasn't happened, the ICO has the power to investigate and can take enforcement action if necessary."
The BBC's Dino Sofos has been speaking to passengers on the same service Mr Corbyn used from London to Newcastle. See more on the BBC News Snapchat account.