Twitter reacts as Virgin Trains and Jeremy Corbyn clash over seats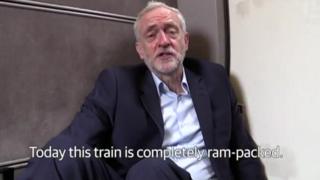 What began with the Labour party leader, Jeremy Corbyn, being filmed sitting on the floor of a train complaining about overcrowding has turned into a dispute with Virgin Trains about whether seats were actually available.
Mr Corbyn was travelling from London to Newcastle earlier this month.
Virgin Trains has released CCTV footage appearing to contradict Mr Corbyn's story. Mr Corbyn's leadership campaign team later said that when the Labour leader boarded the train he had been "unable to find unreserved seats" but that train staff found him some after a family was upgraded to first class.
Here's what the Twittersphere really thinks of the whole affair, which is fast becoming known as #Traingate
Compiled by Nana Prempeh, the BBC's UGC and Social News team