John Whittingdale 'warns BBC over James Purnell role'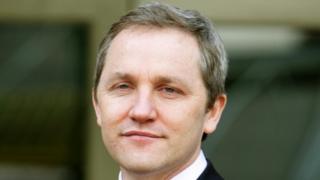 Former Culture Secretary John Whittingdale has urged the BBC to rethink reported plans to appoint a former Labour minister as its new director of radio.
Mr Whittingdale told the Times he had "severe doubts" about James Purnell's suitability for the role, given his past political allegiances.
Mr Purnell, currently the BBC's head of strategy, has been tipped for promotion to a more senior role.
The BBC would not comment on its plans.
A BBC representative said: "We wouldn't comment on speculation and do not think that holding public office should bar someone from having a career afterwards."
Mr Purnell joined the BBC in 2010 after a career as a Labour cabinet minister under Gordon Brown, including a spell as Culture Secretary.
Mr Whittingdale, who was sacked as Culture Secretary last month by Theresa May, said he had a "lot of time" for Mr Purnell and regarded him as an "able man" but as a "lifelong Labour politician" he was not suitable for the proposed role.
The Conservative MP told The Times: "I do have concerns about somebody who has played a very prominent role in a political party then going on to have an editorial job in the BBC."
Former Conservative minister Lord Patten served as director of the BBC Trust, but Mr Whittingdale insisted that was different because the trust did not have direct involvement in editorial decisions.
Mr Purnell has been widely tipped to take over as director of radio if and when current boss Helen Boaden steps down.
The position does not have control over news output but does give the holder responsibility for eight radio stations.