David Dimbleby to host Labour Question Time special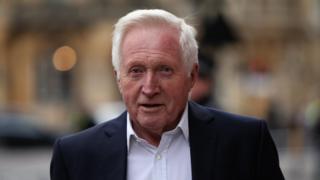 Veteran broadcaster David Dimbleby is to present Question Time with a Labour leadership special.
Contenders Jeremy Corbyn and Owen Smith will go head to head before a live studio audience on 8 September.
The debate from Oldham, shown at 21:00 BST on BBC One, marks the start of a new series of the weekly debate show.
Dimbleby, 77, has hosted Question Time since 1994 as well as anchoring the BBC's general election programmes since 1979.
He said: "It's good news that the two contenders for the Labour leadership have agreed to appear in front of a Question Time audience. As we saw in the EU referendum debates, and the general election debates, there's nothing like a Question Time audience for discovering and testing different political views."
The result of Labour's leadership contest will be announced on 24 September.