'Let them eat cake' backlash after MP's anti-feminist comments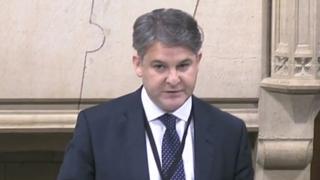 Conservative MP Philip Davies has provoked an online backlash after criticising the "benefits women have compared to men".
Speaking at the Justice for Men and Boys party's conference, he said: "feminist zealots really do want women to have their cake and eat it".
The comments prompted many women to tweet photos of themselves eating cake with the hashtag #letthemeatcake.
His remarks were also condemned by opposition MPs.
Hannah Martin posted: "There's no calming down this Madeira, thanks to Philip Davies MP," and Emily Buchanan wrote: "My cake's crumbling like the patriarchy."
Justice for Men and Boys describes itself as "the only political party in the English-speaking world campaigning for the human rights of men and boys".
Their 2015 election manifesto suggests men should receive their pension earlier than women because they work harder and die younger, and the government should scrap schemes which attempt to increase the proportion of girls and young women studying science, technology, engineering and maths.
'Pandering'
Addressing their conference, Mr Davies, MP for Shipley, said: "They fight for their version of equality on all the things that suit women but are very quick to point out that women need special protections and treatment".
In a 45-minute speech posted online, Mr Davies denied that there is "an issue between men and women".
He said: "I think the problem is being stirred up by those who could be described as militant feminists and the politically correct males who pander to this nonsense."
MPs including Lib Dem leader Tim Farron and Labour's Diana Johnson have condemned his speech.
In Parliament Mr Davies has often raised concerns about what he calls the "justice gender gap", complaining that the justice system favours women by sending fewer to prison and not forcing them to wear uniforms.
Asked about his appearance at the Justice for Men and Boys conference, Mr Davies told the Guardian: "I don't accept the premise that the only place that people can speak on anything is a place where they agree with everything that organisation stands for.
"I don't agree with everything the Conservative Party does but I'm still a Conservative MP."