UKIP's Lisa Duffy calls for partial ban on full-face veil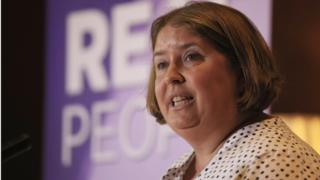 Islamic full-face veils should be banned in shopping centres, public buildings and on public transport, UKIP leadership hopeful Lisa Duffy has said.
She said she did not want a general law banning the veil but there were some places it should not be allowed.
The councillor - one of six vying for leader - also said she would close Islamic schools and ban Sharia courts.
Meanwhile, MEP candidate Bill Etheridge warned against focusing solely on Islam as it "makes us look small-minded".
Ms Duffy and Mr Etheridge are among a field of six in the race to succeed Nigel Farage as UKIP leader, with the winner to be announced at the party's conference on 15 September.
Steven Woolfe, seen as the frontrunner, has been ruled "ineligible" to stand in the contest, after he submitted his papers late.
'One law for all'
In a speech in central London, Ms Duffy described the full-face veil as "a symbol of aggressive separatism that can only foster extremism" and said that under her leadership, UKIP would advocate a "show your face in public" policy.
"The veil speaks only to culture and oppression, not Islam, and there's no reason why we in Britain should allow it to be worn anywhere and everywhere," she said.
Advocating a ban on Sharia councils, sometimes referred to as Sharia courts, she said there should be "one law for all, not one law for must of us and a different law for the three million Muslims in Britain".
"I cannot condone any parallel legal system, let alone one rooted in inequality," she added.
Ms Duffy is also proposing to close Islamic faith schools until the Islamist terror threat was dealt with.
"I do not want extremist or anti-Western views to go unchallenged in any school," she said.
She rejected comparisons with US Republican presidential hopeful Donald Trump, and insisted she was trying to allay "unfair" fear directed at Muslims.
"Most Muslims are good individuals, they work hard, they have great families and they contribute to our communities.
"This is about us working together to make sure there is an equality within faith groups and that they have the same freedoms that you and I both share," she said.
Meanwhile, speaking in Manchester, Mr Etheridge backed a ban on the burka - the veil which fully covers the face and body - in public places "where there is a security issue".
But he said Ms Duffy was wrong to talk about wider reform of Islam in Britain.
He said it would be better if the state and those seeking to govern it "set the criteria that we can all live as freely as possible and we allow the religious authorities and individuals to sort their own religion", provided it works "within a framework where nobody feels they are being intimidated over any issue on either side".
'Sin taxes'
The West Midlands MEP added: "I don't think we need to get too far into focusing entirely on Islam as one issue, we are not small-minded and petty people, this is not a small-minded party."
Setting out his policy ideas, Mr Etheridge said he wanted to "cement" libertarianism in to UKIP's DNA.
He pledged to do away with "insane green policies", abolish hospital parking charges, boost defence, scrap "sin taxes" on tobacco and alcohol, and axe HS2.
He also called for the reintroduction of grammar schools and for a flatter, more simple taxation system.
Jonathan Arnott, Diane James, Phillip Broughton and Elizabeth Jones are the other candidates standing in the contest, sparked by Mr Farage's decision to stand down after the UK voted to leave the EU.