Jeremy Corbyn pledges to 'rebuild Britain'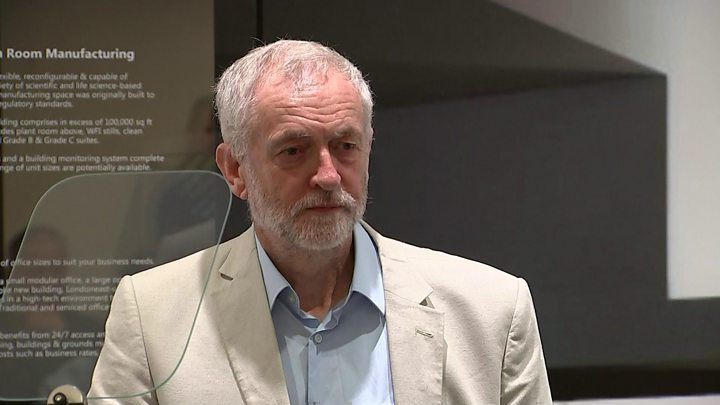 Jeremy Corbyn has set out 10 pledges "to rebuild and transform Britain", as part of his bid to stay Labour leader.
Speaking in Dagenham, east London, Mr Corbyn outlined plans to ensure full employment by creating one million jobs building new infrastructure.
Mr Corbyn, who is facing a challenge from Owen Smith, insisted he could lead Labour to victory and rejected claims of a party split if he remained leader.
Mr Corbyn and Mr Smith take part in the first hustings of the campaign later.
The head-to-head debate in Cardiff is one of a series planned across the UK during the contest, which ends on 24 September.
In his speech in London, Mr Corbyn reiterated his claim that the UK's economic model is "broken" and spoke about how the country can respond.
"We need a Labour government that rebuilds and transforms Britain," he said, committing to the creation of one million new jobs through investing £500bn in infrastructure, manufacturing and new industries.
The money would be raised through "an expanding economy and driving down tax evasion", he said.
He detailed 10 areas Labour would seek to reform, including promises to create full employment, at least half a million new council homes, a new "National Education Service", providing universal public childcare, and ending private-sector involvement in the NHS.
Mr Corbyn said under his leadership the party would "ignore nobody, forget nobody", and "at the end of the first term of a Labour government we won't be talking about left-behind Britain - we'll be talking about inclusion in Britain".
He told the audience his campaign was not just aimed at Labour members, but was "a campaign for the entire public to be involved in".
"This is a preparation for a general election when we can win that general election and produce decency and real opportunity for everyone in our society," he added.
Mr Corbyn also pushed back the idea that some of his opponents were considering forming a breakaway group.
"I'm sure no Labour MP would dream of walking away from the family of the Labour Party... that helped to put them into parliament in order to represent Labour views and Labour values," he said responding to questions.
'No split'
Mr Corbyn's comments come after his rival Owen Smith said in a Guardian interview that Labour was "teetering on the edge of a precipice" and "could be bust apart and disappear."
Mr Smith's pitch at this evening's hustings will be that he can unite Labour and turn it into what he calls "a radical government in waiting," BBC political correspondent Chris Mason says.
Labour shadow chancellor John McDonnell said Mr Smith could end talk of division if he were to "denounce" his supporters "who are trying to split the party" and pledge to serve under Mr Corbyn if he wins the contest.
"I've had Labour Party members... saying 'the message that is coming across from some of Owen Smith's friends is you either vote for Owen Smith or we'll split the party' and that's a threat and I don't think that's acceptable. I don't think that's what Owen Smith wants either," he told BBC Radio 4's Today programme.
Mr McDonnell added: "I've given my whole life to this party, there's no way I am ever, ever going to allow this party to split. And it won't."
Legal challenge
Meanwhile, a group of Labour Party members has launched a legal challenge over restrictions on who can vote in the party's leadership battle.
Five party members, who are being partly backed by trade unions, are claiming breach of contract after Labour's governing body, the NEC, ruled that only members who joined the party on or before 12 January this year could vote.
To be able to vote, anyone who joined after 12 January had to pay an extra £25 to become a "registered supporter".
The decision is thought to have prevented about 130,000 new members from voting, BBC political correspondent Tom Bateman said. Sources close to Mr Corbyn believe most of the new members would be likely to back him, he added.
Representing the group, Stephen Cragg QC told the court that the NEC could not "run roughshod" over the party rulebook by imposing a retrospective cut-off, or freeze date, on the right to vote.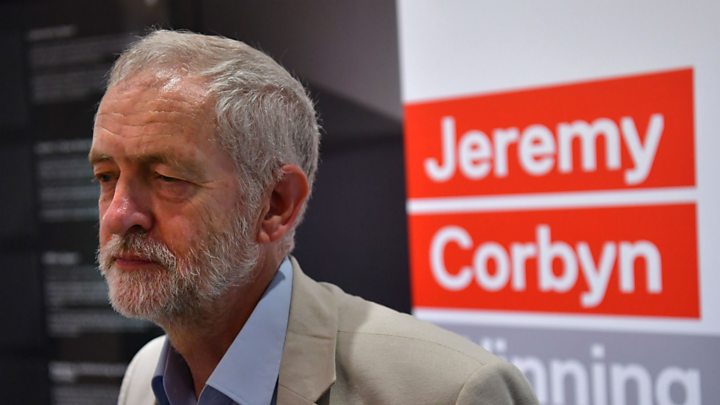 "It is simply wrong to say there is an untrammelled right to have a freeze date whenever the NEC wants to do so," he said, and argued there was no precedent for such action.
Peter Oldham QC, representing Labour Party chairman Iain McNicol, argued that the NEC had broad discretion in the rules to apply such a cut-off date and said the court should exercise "particular caution" when it came to limiting the powers of political parties.
Referring to the NEC and the party rulebook, he said: "The court should give full rein to the powers that body has expressed in the governing document."
Judge Mr Justice Hickinbottom said he appreciated there may be "political consequences" to his decision, but that his judgment would be "pure" on the issue in question, which was contract law.
A judgment is expected on Monday.