Labour leadership: Activists could lose vote in abuse warning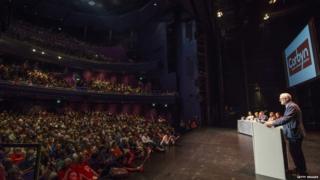 Activists engaging in abusive behaviour online or at meetings will not be able to vote in Labour's leadership contest.
The 183,000 people who signed up to vote last week as registered supporters are among those to have been warned about their conduct by the party.
Labour general secretary Iain McNicol said there must be an "atmosphere of respect" during the two-month contest between Jeremy Corbyn and Owen Smith.
Party members who transgressed risked being suspended, he added.
The BBC's political correspondent Iain Watson said a "balanced panel" of party officials would consider the most serious complaints made via a new e-mail hotline in the run-up to the 24 September election.
The panel, he said, would have the power to potentially expel party members and withhold the vote from affiliated supporters, such as trade union members, as well as the thousands of people who signed up on a one-off basis last week to take part in the election.
The party received 183,541 applications from people wanting to register, each paying a £25 fee. Anyone who is subsequently barred from voting would not have their money refunded, our correspondent added.
Critics of Mr Corbyn say the challenge to his leadership has triggered a furious backlash, led to demonstrations outside MPs' offices and resulted in a number of MPs receiving rape and death threats.
'Appalling'
Mr Smith has accused supporters of the Labour leader of "heaping abuse" on MPs who are critical of him, behaviour which he has suggested had been "licensed" by the party leadership.
On Friday, more than 40 female MPs wrote to Mr Corbyn urging him to take "swift and tangible action" against the perpetrators, saying they were acting "in his name".
Mr Corbyn has said he condemns intimidation and harassment of any kind and had set out a clear code of conduct for how he expected his supporters to behave during the leadership fight.
His close ally, shadow chancellor John McDonnell, has pleaded for an end to infighting but said he believed that a "small group" was intent on removing Mr Corbyn at all costs, if necessary splitting the party in the process.
Mr McNicol, the general secretary of Labour's National Executive Committee - the organisation which sets the rules for the contest and polices them - said there were too many "appalling" instances of Labour supporters being shouted down in meetings or vilified online.
Giving confidence
Urging all such cases to be reported to the party, he said disciplinary action would be taken to help "protect" party members.
"Put plainly, there is simply too much of it taking place and it needs to stop," he said
"The Labour Party should be the home of lively debate, of new ideas and of campaigns to change society. However, for a fair debate to take place, people must be able to air their views in an atmosphere of respect.
"I want to be clear. If you are a member and you engage in abusive behaviour towards other members it will be investigated and you could be suspended while that investigation is carried out. If you are a registered supporter or affiliated supporter and you engage in abusive behaviour you will not get a vote in this leadership election."
"We owe it to the millions of people who need the Labour Party to fight for them to conduct our leadership election in a way that gives them confidence in our ability to build a better Britain."
Iain Watson said there was likely to be a vigorous debate over what constituted abusive language, particularly on social media.
All routine meetings of constituency Labour parties have been suspended for the duration of the leadership campaign while police are investigating a number of incidents - including a brick being thrown through a window at the constituency office of MP Angela Eagle.