Vote Leave bus 'rebranded' by Greenpeace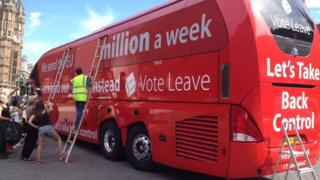 Vote Leave's EU referendum bus has been hired by Greenpeace, which plans to rebrand it a "vehicle for truth".
The environmental group has parked the double-decker at Westminster.
It will cover the bus, which featured the controversial claim leaving the EU could boost the NHS by £350m a week, with questions for the government.
Singer Will Young and Pakistan's cricket team are reportedly among those to have previously hired the bus since the 23 June referendum.
This meant Greenpeace had to reinstate Vote Leave's branding after acquiring the bus, which carried Leave campaigners including Boris Johnson, Michael Gove and Gisela Stuart around the campaign trail, before launching its "come clean" publicity stunt.