Boris Johnson will be great PM, says Tory donor Alexander Temerko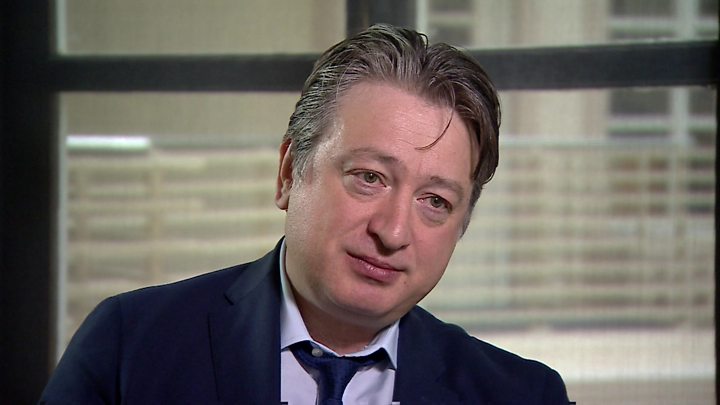 Boris Johnson will become a "great prime minister" in the mould of Winston Churchill, one of the Tory party's biggest donors has told the BBC.
Alexander Temerko, a Ukrainian-born British businessman, praised Prime Minister Theresa May for making his friend and ally foreign secretary.
He said the former London mayor would be "very loyal" to Mrs May but predicted he would one day succeed her.
The businessman has donated more than £1m to the Tories in recent years.
Mr Temerko, who became a British citizen in 2011, had planned to bankroll Mr Johnson's bid to be Conservative leader, before he dramatically pulled out at the last minute.
The businessman was full of praise for Theresa May and the cabinet appointments she has made since entering Number 10, in a BBC interview, saying it would "totally change the Westminster political landscape".
But he said he was in no doubt that Mr Johnson would become "our next leader".
"Many of our great prime ministers have descended from the Foreign Office - Macmillan, Eden and Winston Churchill - and Boris will be one of them," he said.
'Loyal general'
He also took a swipe at George Osborne and Michael Gove, who were both sacked from the cabinet by Theresa May, saying they were "very gifted people for intrigue, but it is not a time for intrigue, it is time for action and for consolidation, it is not a time for manipulation".
He said: "Boris is not a man of intrigue. Boris is very loyal.
"Theresa May should know he will be a very loyal officer and a very loyal general. He is very steady."
Asked if Mr Johnson had the diplomatic skills to succeed as foreign secretary, given his record of offending other nations, he said: "He is a very good diplomat but he is a very strong diplomat. He is a really very strong man. He is a man with guts, with stamina."
Mr Temerko, a former senior executive of Russian oil giant Yukos, is now a director and deputy chairman of OGN group, a Tyneside engineering company that makes North Sea oil and gas platforms.
He recently unveiled plans, with a consortium of investors, to build a 150-mile power cable linking the French national electricity grid to the UK, which he described as the country's second biggest infrastructure project after HS2.
The businessman was a close associate of the former head of Yukos, Mikhail Khodorkovsky, a fierce critic of Russian President Vladimir Putin, who spent 10 years in custody for tax evasion and theft after funding opposition parties.
Stability
In 2005, a request for the extradition of Mr Temerko from the Russian authorities on fraud charges was rejected by a London court, which ruled that he was unlikely to receive a fair trial.
He has thrown himself into Conservative Party politics since arriving in the UK, funding more than 30 MPs and candidates in marginal seats in north-east England, where he is on the local party board, and elsewhere, as well as being a vice-chairman of the Cities of London and Westminster Conservative Association.
He had said he backed the Remain campaign in the EU referendum because, as a businessman, he valued stability.
But he had thought that the then Chancellor George Osborne's campaign of "fear" and "intimidation" during the campaign was ill-advised and he believed there were great opportunities for British business after Brexit, particularly if the government capitalised on its close alliance with the US.
Putin and Brexit
Asked about claims by Remain campaigners, that President Putin would be celebrating Britain's exit from the EU, he said Putin's influence in the world was now "zero".
President Putin has rejected claims - made by David Cameron and others during the referendum campaign - that he backed Brexit.
The Russian president has described Mr Cameron's comments as "nothing more than a flawed attempt to influence the public opinion in his own country".
Mr Temerko said Boris Johnson was "serious" about tackling corruption.
He said he was confident that Liam Fox, the new International Trade Secretary, and Brexit Secretary David Davis, whom he described as "profoundly a man of democracy," would work with Chancellor Philip Hammond, Theresa May and the rest of the government front bench to stand up to President Putin.
Stronger role
He said he would continue to support the Conservatives with "serious money" and argued for a stronger role for business people and donors like himself.
He denied there was any attempt to buy influence, it was just that the party could benefit from their experience and leadership skills.
"It's impossible to buy influence. It's a waste of time, we are very protected against that. Nobody, trust me, serious people, tries to buy influence," said Mr Temerko.
Indeed, his frequent criticisms of government energy policy appear to have largely fallen on deaf ears so far.
He has also lobbied hard for the government to ensure more British-made components are used in North Sea oil and gas projects, something with which he claims to have had some success.
He urged Theresa May to set up an advisory council of business leaders, and suggested there should also be a greater role for grassroots activists in the Conservative Party.