David Cameron says Northern Ireland stronger than when he came to power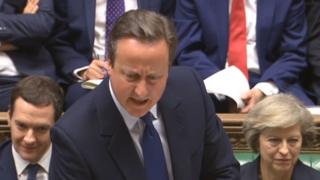 The outgoing prime minister has said Northern Ireland is stronger now than when he came to power six years ago.
David Cameron was speaking during his final Prime Minister's Question Time.
He said there were now 58,000 more people in work, inward investment was at record levels and policing and justice had been devolved to the Northern Ireland Assembly.
Mr Cameron was asked about the impact of Brexit on Northern Ireland by Ulster Unionist MP Danny Kinahan.
The prime minister said said that as the UK prepares to leave the EU, the benefits of the Common Travel Policy had to be kept.
"We do need to make sure that, as we leave the European Union, we work out how to keep the benefits of the Common Travel Area," Mr Cameron said.
"Hard work is being done now with civil servants in Northern Ireland, in Whitehall, but also in the Republic of Ireland and that work needs to quicken."
Mr Cameron will leave Downing Street for the final time as prime minister later, with Theresa May waiting to replace him.
After saying goodbye to staff at Downing Street, he will tender his resignation to the Queen.
After taking office, Mrs May will set about naming her own frontbench team.
The current home secretary, 59, was the only remaining candidate in the Conservative leadership contest following Andrea Leadsom's withdrawal on Monday.
The contest began when Mr Cameron, who has been prime minister since 2010, announced he would step down after losing the EU referendum in June.