Labour leadership: Owen Smith to enter contest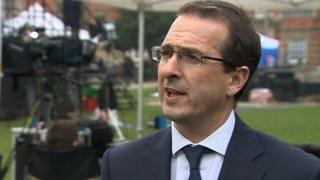 Ex-shadow cabinet minister Owen Smith has said he will stand against Jeremy Corbyn, saying Labour needs both a "radical and credible" leader.
The Pontypridd MP, who quit as shadow work and pensions secretary last month, said he could "heal" the party and "turn the page" on its internal strife.
Elements on the left and right of the party wanted to split it, he claimed.
On Tuesday, Labour ruled Mr Corbyn should automatically be in the contest, in which Angela Eagle is also standing.
Mr Smith will need the support of 51 MPs or MEPs to be eligible to stand in the contest.
The party will announce the election timetable on Thursday but the contest is expected to take two months, with the winner announced on the eve of the Labour Party conference on 24 September.
Meanwhile, BBC political correspondent Ross Hawkins said two sources had told him Labour's National Executive Committee (NEC) had also decided to suspend all constituency and branch meetings until the new leader had been elected because of concern about harassment, intimidation and bullying.
Labour said the NEC had decided local parties could hold meetings to discuss urgent matters, but normal meetings had been suspended, and declined to confirm the reason.
---
'An emotionally charged meeting'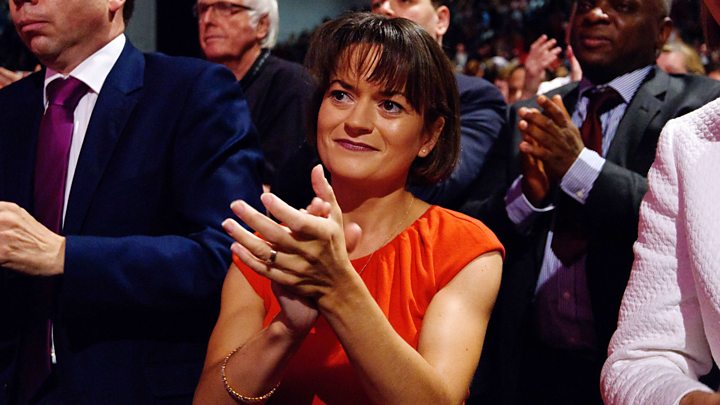 Following hours of talks on Tuesday night, Labour's NEC voted 18-14 in favour of allowing Jeremy Corbyn to automatically stand in the leadership contest without needing to get nominations from Labour MPs.
But Johanna Baxter, a Constituency Labour Parties representative on the NEC, criticised Mr Corbyn for voting against a proposal for that decision to be made with a secret ballot.
"It was a very difficult meeting, it was highly emotionally charged, and a number of colleagues were very, very upset during the meeting, including myself," she said.
There were "a number of threats made", including the threat of possible legal challenges, she said.
"The difficultly was that a number of us, and a number of my colleagues in that room, had been subject to bullying and intimidation prior to the meeting taking place. Certain groups within the party published my contact details, my personal contact details, online.
"One of my colleagues has just recently had a stalker sectioned - she was in tears. She begged the leader for a secret ballot to protect her and also other colleagues who had received intimidating and bullying behaviour.
"And the thing that really upset me about that meeting was that the Labour party leader voted against that proposal to have a secret ballot to protect colleagues."
Mr Corbyn has urged members and supporters to "treat each other with respect and dignity", after reports that Angela Eagle's constituency office was vandalised.
---
Mr Smith said he supported the NEC's decision to allow Mr Corbyn on to the ballot, and rejected claims he would split the anti-Corbyn vote by standing, saying party members wanted a "wide choice".
He denied he was part of a plot against Mr Corbyn, but attacked the Labour leader's allies, including shadow chancellor John McDonnell, suggesting they "were part of the problem".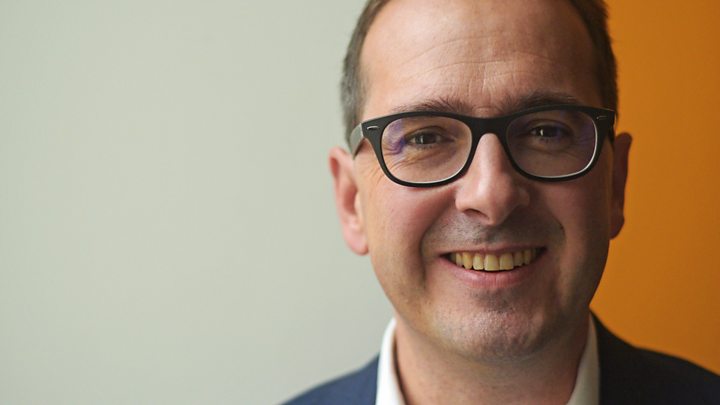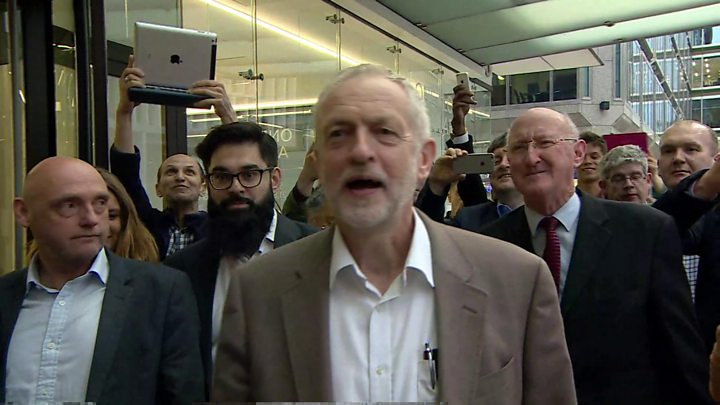 "Working people cannot afford to have a day like this where the Tories are popping the champagne corks and celebrating their coronation and the prospect of a Labour government feels so distant for working people.
"I can heal the party and be a credible leader and next Labour prime minister."
Mr Smith said he would have voted against the Iraq War had he been an MP at the time, differentiating himself from Ms Eagle who voted for the war. But he said he would vote to support the renewal of the UK's Trident nuclear weapons system in a Commons vote on Monday, putting him at odds with Mr Corbyn.
---
Analysis
Iain Watson, BBC political correspondent
Owen Smith had been mulling over a leadership challenge, but initially he put his efforts into trying to persuade Jeremy Corbyn to move to a different role because, in Mr Smith's view, he quite simply wasn't seen as a potential prime minister.
When it was clear the current leader was digging in, the former shadow work and pensions secretary canvassed support for a challenge.
Angela Eagle was first out of the traps and has argued that it is time that Labour - a party of equality - elected its first female leader.
Mr Smith will position himself to Angela Eagle's left, stressing support for Mr Corbyn's anti-austerity policies, and believes this enables him to appeal to an apparently radical membership.
But if the anti-Corbyn forces are split, that will boost the prospects of a leader whom both Mr Smith and Ms Eagle regard as unelectable.
So it remains to be seen if they can reconcile any differences and agree on a single challenger.
---
Mr Corbyn was elected leader in a vote of grassroots members last year with 59% of the first round votes, but has been hit by a host of shadow cabinet resignations and a vote of no confidence among Labour MPs.
At Prime Minister's Questions, the Labour leader responded to jibes from David Cameron about his leadership, saying: "I've had the pleasure of asking the PM 179 questions, and plenty more to come to his successor, don't worry about that."
---
Who can vote in Labour leadership contest?
Labour Party members, affiliated trade union supporters and so-called registered supporters are able to vote although there are some key differences from the 2015 contest, which Jeremy Corbyn won.
Labour Party members need to have signed up on or before 12 January to be eligible to vote. Nearly 130,000 people have become members alone since the EU referendum. As it stands, they won't automatically be able to take part
Anyone can become registered supporters - giving them a one-off vote - if they pay £25 and "share" Labour's aims and values. There is a two-day window for people to sign up, expected to be 18 to 20 July although this has not been confirmed
Registered supporters who paid £3 to vote in last year's leadership election will have to reapply
Affiliated trade union or socialist society supporters can sign up for less then £25, with rates depending on the organisation they belong to, but they have to have joined an affiliated organisation before 12 January
---
Meanwhile, Ms Eagle said Labour had been created to "be the voice of working people in Parliament" and to do that "you have to be effective in Parliament".
She said she had "tried" to work with Mr Corbyn for nine months, but added he "cannot lead in Parliament".
---
Profile: Owen Smith
Began his career as a BBC journalist, where he worked for 10 years as a radio and television producer, including on BBC Radio 4's Today programme
Worked for five years in the biotechnology and pharmaceuticals industry and went on to become a special adviser in Parliament
Elected as the Labour MP for Pontypridd in 2010, succeeding former Labour minister Kim Howells, after he stood down
Served as shadow Welsh secretary under Ed Miliband and then as shadow secretary of state for work and pensions under Jeremy Corbyn, until resigning in June
---