Labour to decide on Jeremy Corbyn leadership ballot rules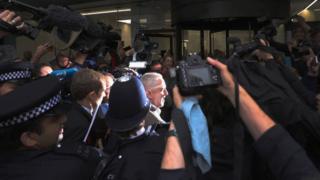 Labour's National Executive Committee is set to rule on whether Jeremy Corbyn should automatically get a place in the party's leadership contest.
The contest was triggered after ex-shadow cabinet minister Angela Eagle launched a challenge against Mr Corbyn.
Unions say party rules are clear the incumbent who is challenged must be allowed to stand, but his opponents say he needs the support of 51 MPs or MEPs.
The ruling NEC could face the threat of legal action from Mr Corbyn.
The Labour leader made a last-minute decision to attend the emergency meeting of the NEC in London, having been due to address the Unite union conference in Brighton on Tuesday afternoon.
BBC chief political correspondent Vicki Young said it had been a "very slow process" at the meeting, which is still deciding whether or not Mr Corbyn needs 51 nominations to stand in the contest.
But she said the committee had agreed to hold the vote on the ballot rules in secret.
"That is significant, because some Labour MPs feel there has been a certain amount of intimidation, but if it's a secret ballot then people will be able to vote as they wish."
Both sides were giving every indication that the result would be close, she added.
Labour-commissioned legal analysis states Mr Corbyn needs 51 nominations - just like any challenger - to get on the leadership ballot, but unions say, as existing leader, he does not.
The BBC has seen legal advice sent to Unite by solicitors that states: "The rules by which the Labour Party is governed are unambiguous: the leader does not require any signatures to be nominated in a leadership election where there is a potential challenger to the leadership."
The solicitors make clear that legal action will be launched unless Mr Corbyn is automatically on the leadership ballot, and they would halt any leadership election by applying to the High Court for an injunction.
It is thought Mr Corbyn would struggle to amass 51 signatures because his support is concentrated in the party's wider membership.
'Dangerous times'
The Unite union's general secretary, Len McCluskey, has warned Labour not to seek a "sordid little fix" to prevent Mr Corbyn defending his leadership.
He said it would be "alien to the concept of natural justice" if the Labour leader was not "automatically on the ballot paper".
Mr Corbyn, who has never had much support among his party's MPs, was elected as leader overwhelmingly in a vote of Labour members and registered supporters last year.
He is facing a challenge to his leadership from his former shadow business secretary, who has accused him of failing to connect with Labour voters.
Ms Eagle - who has already secured 51 nominations - has said she can provide "strong" leadership to "heal our country in these dangerous times".
She has been calling for Mr Corbyn to resign for days, following the mass walkouts from the Labour shadow cabinet and shadow ministerial positions in protest at his leadership.
Owen Smith, MP for Pontypridd and Labour's former work and pensions spokesman, has said he would consider making a rival leadership challenge.