Do parents make better political leaders?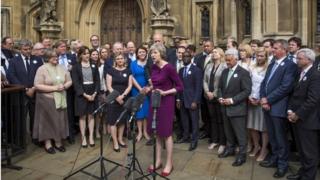 Theresa May's status as a married woman with no children came into focus during her leadership campaign. But does being a parent make you a better political leader?
As Mrs May prepares to settle in to Number 10 and David Cameron moves his family out, there is no denying the prime minister's residence will soon be a quieter place, without young children living there.
Mrs May joins a number of female political leaders who do not have children of their own, including the SNP's Nicola Sturgeon and German chancellor Angela Merkel.
Yet questions over the influence of family on a politician's leadership have led to fierce debate.
Mrs May's Tory leadership rival suggested it did matter. Andrea Leadsom claimed that "being a mum means you have a very real stake in the future of our country, a tangible stake".
An angry backlash among MPs and on social media suggested however that many people did not agree that being a parent made a difference to a leader's credentials.
Deputy Commons Leader Therese Coffey, a friend of Mrs Leadsom, said: "I don't think it matters whether somebody has children.
"Everybody has different life experiences... of course this gives you a perspective but we are talking about someone who has to lead our country. I really think we should be looking at the bigger issues facing the country."
But Mrs Leadsom is not the only one who believes being a parent is relevant in politics.
In last year's Labour leadership contest, Yvette Cooper was backed by fellow MP Helen Goodman because "as a working mum, she understands the pressures of modern life".
She believed being a mother meant Ms Cooper would "know what challenges ordinary people face day to day" and would "champion families".
'Flaw in personality'
The emphasis on a politician's family life is certainly nothing new, and not just waged at women.
When Iain Duncan Smith campaigned to become Conservative party leader in 2001 he was championed as being "a remarkably normal family man", equally adept at changing nappies as he was at changing social policy.
Elsewhere, former PM Gordon Brown's love life was the cause of much speculation when he became Labour's chancellor.
Questions over why he was unmarried and childless at the age of 46 led to a run-in with Sue Lawley on Desert Island Discs.
"People want to know whether you're gay or whether there is some flaw in your personality," she said, forcing Mr Brown to reply: "I'm not married because I'm not married. It just hasn't happened yet."
Nick Jones, political author and commentator, says such family scrutiny began in the 1970s when Ted Heath's prime ministerial qualities were called into question because he was a single man.
"He was out and about and in the public eye much more than his predecessor Harold Wilson, and there was much more focus on his personality," he says.
"It was suggested not having a wife and children meant he couldn't relate as well to the everyday person in the street. It wasn't seen as the norm and people felt there was a gulf between them. Being relevant conveys authority.
"He tried to show off his love of yachting to demonstrate his life outside politics."
But how do childless politicians appear in the eyes of the voters now?
Peter Kellner, former president of polling organisation YouGov, believes it is not a critical factor.
"There isn't much specific polling evidence but I don't think it makes any difference. There are many single MPs and leaders, and quite a lot of examples of gay politicians, and they have suffered no disadvantage from having no children."
But Nick Jones says there is PR power in being seen at home with a family.
"The TV media wants those cut-away shots of the politician doing something in their home, and the kitchen interview has become central to showing their human side. We saw Tony Blair making a coffee at home, David Cameron cooking while his children sat around doing their homework. They are reassuring images."
Mr Blair and Mr Cameron both added to their families while in office.
When the Blair's had their fourth child, Leo, in May 2000 it was the first time a serving prime minister's wife had given birth for more than 150 years, while Mr Cameron become the first British prime minister to take statutory paternity leave following the birth of his daughter Florence in 2010.
Mrs May will join Nicola Sturgeon, Natalie Bennett, Leanne Wood, Arlene Foster and Ruth Davidson as women in leadership roles in British politics - but four of the six do not have children. So is there a problem combining high office with the responsibilities of parenthood?
Maria Miller, former Conservative equalities minister, told BBC Radio 4's Today programme it was an issue not exclusive to politics.
"While Theresa May may have shattered another layer of the glass ceiling, I think women will be thinking there are a lot more glass ceilings out there around the country often linked to their child caring responsibilities and their elder care responsibilities. So it is about modernising the workplace not just in Parliament but around the country."
In her pitch to become leader, Mrs May portrayed herself as capable and strong with ministerial experience. "I'm not a showy politician", she said, but someone who "just gets on with the job".
But she has also discussed her family situation, explaining in a newspaper interview that it had not been possible for her and her husband to have children.
Cultural commentator Kate Maltby says it shows there is still a lot of pressure on women to explain their personal choices.
She told the BBC: "One of the saddest things for those of us who consider ourselves feminists is the way in which women in leadership still seem to be forced to apologise for not having children.
"Theresa May has always been expected to act like it is a terrible tragedy rather than a personal choice.
"There seems to be an attitude, particularly among the older generation I would say, that to be a woman without children is somehow unnatural."
Scottish First Minister Nicola Sturgeon has previously hit out at similar suggestions.
"People sometimes assume I made a cold, calculated decision to put my career ahead of having a family and that is not true, she explained on the BBC's Desert Island Discs. "Sometimes things happen in life, sometimes they don't."