Angela Eagle launches leader bid 'to heal Labour'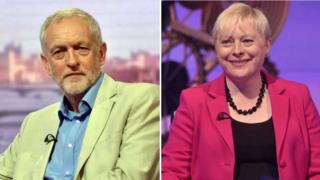 Angela Eagle has said her Labour leadership challenge is a bid to "heal the party", as leader Jeremy Corbyn urged her to "think again".
"This isn't about splitting, this is about reuniting our party," she said.
Mr Corbyn, who was elected by Labour members but is now opposed by many of his own MPs, said he was "disappointed" but would fight the challenge.
Labour's ruling National Executive Committee will decide whether he must seek MPs' nominations to run again.
Owen Smith: Corbyn 'prepared to see Labour split'
Labour leadership election rules
Who's in and who's out of the shadow cabinet?
Mr Corbyn has faced dozens of resignations from his front bench in the weeks since the EU referendum.
He had been accused of failing to win over Labour voters to the Remain side and many of his MPs feel he would not lead the party to victory, should there be a snap general election following David Cameron's decision to resign as prime minister.
After losing a no confidence motion among Labour MPs by 172 votes to 40, it is thought he may struggle to get the backing of 20% of Labour MEPs and MPs - 51 names - needed to get on the ballot paper in a leadership contest.
If the NEC - the governing body and administrative authority of the party - rules he has to get 51 nominations to defend his leadership and he fails to do so, his name would not go forward to a vote of the wider membership.
But Mr Corbyn told the BBC he was "expecting to be on the ballot paper because the rules of the party indicate that the existing leader, if, challenged, should be on the ballot paper anyway".
Asked if he would go to court should the NEC rule against him, Mr Corbyn said: "I will challenge that, if that is the view they take."
Union leader Len McCluskey has warned of "a lasting division" in the party if Mr Corbyn's name does not appear.
Ms Eagle told the BBC's Sunday Politics it was "not clear from the Labour Party rules", but added: "Anyone who aspires to lead who cannot get 51 members... is not going to be able to do the job properly."
---
Analysis
By BBC political correspondent Chris Mason
Here is the row for Labour over the next few days: The rules for leadership elections.
And here is the row for Labour after that: What does its future look like?
Crucially, one could determine the other, but there are no easy answers whatever happens.
If Jeremy Corbyn wins again, what do the 80% of Labour MPs who think he is a loser do?
If Mr Corbyn is beaten, or not able to stand, tens if not hundreds of thousands of Labour supporters will feel cheated, even robbed.
That is why there is now open talk of Labour splitting in two: A party whose history can be traced back to the dawn of the 20th Century, ceasing to exist as we have long known it to.
---
The former shadow business secretary, who is to officially launch her leadership challenge on Monday, told BBC Radio 5 live's Pienaar's Politics: "I think we need someone who can heal the party."
She said deputy leader Tom Watson, chief whip Rosie Winterton and Parliamentary Labour Party chairman John Cryer had been trying to get him to recognise he had to quit, but added: "Jeremy's just not listening. You can't lead stuck in your office refusing to listen to the people who are meant to be your colleagues."
Mr Corbyn told the BBC he was "disappointed" Ms Eagle had chosen to run against him and would fight any bid to keep him off the ballot paper.
He said: "I would ask her to think for a moment - this is the opportunity of the party to unite against what the Tories are doing to put forward an agenda that is different from the austerity agenda put forward by the Tories and gain a lot of ground."
Mr Corbyn, who was backed by more than 250,000 Labour members in last year's leadership election, and won with almost 60% of the vote on the first ballot, added: "I would be irresponsible if I walked away from a mandate that I was given and a responsibility that I was given."
---
Profile: Angela Eagle
First elected as MP for Wallasey in 1992, Ms Eagle was one of the youngest MPs in Parliament at age 31
The Yorkshire-born MP was comprehensive-school educated before going to Oxford University to read philosophy, politics and economics. She was also under-18s British chess champion
She has a twin sister, Maria, and is older by 15 minutes. They are the first set of twins to be elected as MPs and later became the first twins serving as ministers of state
Ms Eagle was one of the first openly gay female MPs, when she came out in 1997
She stood in the deputy leadership contest in 2015 and was also a cabinet minister under Gordon Brown
She represented the Remain side in some of the EU TV debates and had also been shadow first secretary of state and had deputised for Mr Corbyn at Prime Minister's Questions
---
Mr McCluskey, head of the Unite union which is Labour's biggest donor, said: "I must warn that any attempts to keep Jeremy Corbyn, elected just 10 months ago with an enormous mandate, off the ballot paper by legal means risks a lasting division in the party."
But senior Labour MP Margaret Hodge attacked Mr Corbyn: "I'm beginning to think he's actually a devious man who is more concerned with destroying the Labour Party than he is with creating a force that can win an election at such difficult times and can unite the party."
And Labour's Owen Smith, who is also thought to be considering a leadership bid, claimed Mr Corbyn was prepared to see the party split - something denied by Mr Corbyn himself.