EU referendum result must be respected, says John McDonnell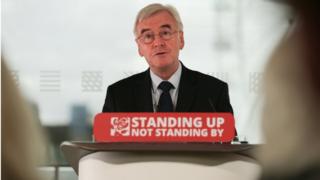 The UK's decision to pull out of the European Union must be respected, the shadow chancellor has said, as he outlined Labour's vision for "Brexit".
John McDonnell also said free movement of people and labour would end and the UK's relationship with the EU, including immigration, must be debated.
It was likely Jeremy Corbyn would face a leadership challenge within days, he said but urged MPs to "calm down".
Dozens of Labour frontbenchers have quit saying Mr Corbyn must go.
Following a speech responding to the EU referendum, Mr McDonnell was asked whether MPs could block the UK's exit from the EU: "We have to respect the decision that was made in the referendum ... otherwise, to be frank, we undermine all confidence in our democratic process."
"When Britain leaves the European Union, free movement of labour and people will then come to an end," he said, adding "a range of options" would then need to be debated "on the nature of the relationship we have with regard to the movement of people and workers".
He outlined five guidelines which he said should be followed in the UK's exit negotiations with the EU.
'Severe consequences'
These were: freedom of trade for UK businesses with the EU and for EU businesses with the UK, protection of residency rights for EU citizens living in the UK, and UK citizens living elsewhere in Europe, existing protections at work, the UK's role in the European Investment Bank and the rights of UK financial services to win business across the EU to be maintained.
His friend Mr Corbyn has been accused of failing to campaign hard enough for a Remain win in the UK's referendum on its EU membership last week.
And after the resignation of PM David Cameron, there were concerns among Labour MPs that Mr Corbyn could not lead Labour to victory if a snap general election was called. Mr Corbyn's predecessor as leader, Ed Miliband, is among senior Labour figures calling for him to go.
Former frontbenchers Angela Eagle and Owen Smith are still to decide which of them has the best chance of beating Jeremy Corbyn in a leadership contest, if he does not give up.
But Mr McDonnell said the UK needed stability and he believed that "internal difficulties" would be resolved "hopefully by democratic means" and the Labour Party "amicably" would "come back together".
"I find it really disappointing. Just at a time when our country needs us and people need to step up to the plate, now is not the time to stand down. Just behave responsibly," he said.
Amid "intense political and economic uncertainty" following the referendum result, Mr McDonnell added: "I think it's absolutely critical that all parties and all politicians recognise their responsibility now and the role they have to fulfil in securing the country's interests."
He added: "If there is to be a challenge to Jeremy Corbyn, in terms of a leadership contest, that will emerge I suspect over the next few days.
"If that is the case, my message to all Labour MPs now is just calm down, let's do our job. It isn't just our party members who need us to do our job, it is the country that need us to do our job."
Some 60,000 people have joined the Labour Party in the last week, sources say, but it is not clear whether they would support Mr Corbyn in a leadership vote or oppose him.
A majority of Labour members of the Scottish Parliament have signed a letter calling for Jeremy Corbyn to go.
Scottish Labour leader Kezia Dugdale has said she would quit if she had suffered the same loss of support as Mr Corbyn.
---
Have you joined the Labour party in the past week? If so, we'd like to hear from you and to know your reasons for doing so.
Please include a contact number if you are willing to speak to a BBC journalist. You can also contact us in the following ways: