Michael Fallon pays compensation to cleric over Islamic State claims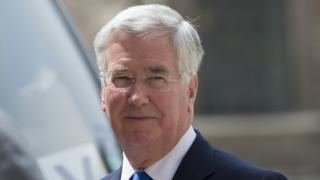 Michael Fallon is to pay undisclosed compensation to Muslim cleric Suliman Gani for falsely claiming he supported the so-called Islamic State group.
The defence secretary announced the compensation on his website, where he also apologised to the Muslim leader.
Mr Fallon was among several senior Conservatives who attacked Mr Gani, who had once shared a platform with Sadiq Khan, during London's mayoral campaign.
In the campaign they accused the now-mayor of associating with extremists.
Prime Minister David Cameron has also since apologised for saying Mr Gani supported IS.
'Entirely untrue'
In a letter on his website, Mr Fallon said he had described Mr Gani as a supporter of IS in an interview on 7 May on BBC Radio Four's Today programme - something he accepted was "entirely untrue".
The comments had also been made in the House of Commons by Mr Cameron during the mayoral contest between Labour's Mr Khan and the Conservatives' Zac Goldsmith.
Mr Fallon said he had made this comment because it had been said previously on a BBC television programme but had not realised the BBC had since corrected that statement and apologised to Mr Gani.
Mr Fallon wrote: "I was made aware of the BBC's correction and apology a few hours after the broadcast and immediately issued a statement in an effort to put the record straight.
"I issued a further statement to the same effect on 11 May 2016, which included my apology to you for repeating the untrue statement.
"I accept that you are entirely opposed to Daesh/Islamic State, that you regard it as incompatible with your religious and moral beliefs, and that you have spoken out publicly against it.
"I repeat my apology for the error that I made and for the distress that it caused to you and your family."
Mr Fallon added that in recognition of the distress caused he would be paying compensation as well as covering Mr Gani's "reasonable legal costs".