Politicians pay tribute to 'great star' Jo Cox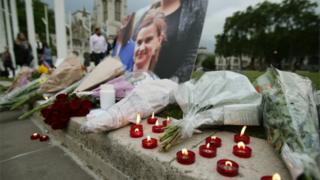 Tributes to Jo Cox have been pouring in from UK political parties and across the world after the popular Labour MP was killed in her constituency.
Labour leader Jeremy Corbyn praised the mother-of-two's "deep commitment to humanity" while the prime minister said Parliament had lost "a great star".
US Secretary of State John Kerry and French President Francois Hollande were among those sending their sympathies.
Mrs Cox, 41, died after being attacked in her West Yorkshire constituency.
Both official EU referendum campaigns have suspended activity as a mark of respect.
The Batley and Spen MP was shot and stabbed in what has been described as an "horrific" assault outside her constituency surgery on Thursday.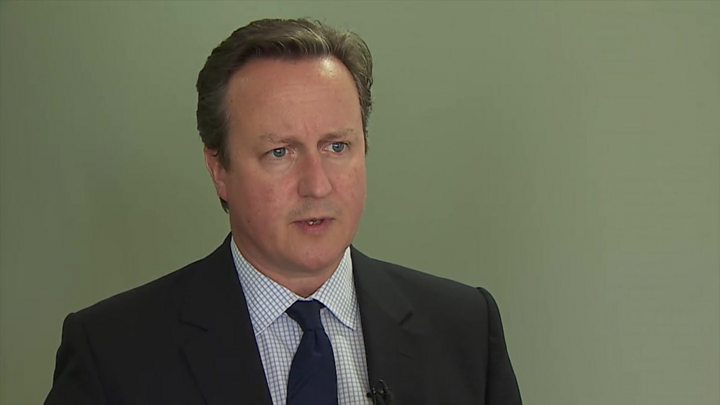 As news broke, visibly emotional colleagues paid tribute to her. Labour's Lucy Powell told the BBC: "It's absolutely devastating. Jo was a wonderful, wonderful woman, parliamentarian, mother, wife and her life has been taken through an act of warped hatred and we are all the poorer for it. But she loved life, she had a wonderful life while she was here and she would want us to celebrate that life now."
And Labour's Joan Walley, who was being interviewed live when the news that Mrs Cox had died broke, told BBC Radio 4's PM programme: "Nothing has prepared me to be in a situation where I'm live on BBC radio to pay tribute to a really, truly special and compassionate woman, who totally believed in public service, who totally believed in eradicating poverty, who totally wanted to see environmental improvements, with a young family and a whole life in politics in front of her."
Another Labour MP, Jess Phillips, said: "My heart is broken. She was amazing, a brave giant who stood against bullies" while the Conservative former international development secretary Andrew Mitchell said: "It is an unspeakable and un-understandable event that has taken place and Parliament and her constituents will be much the poorer for her passing. But it's her family and those two little children who we must be thinking about now."
Mr Cameron, speaking during a visit to Gibraltar where an EU referendum campaign rally was cancelled, said "This is absolutely tragic and dreadful news. My thoughts are with Jo's husband Brendan, their two children and their wider family.
'We've lost a great star, she was a great campaigning MP with huge compassion and a big heart."
Chancellor George Osborne said he was "incredibly sad" to hear the "shocking news".
Home Secretary Theresa May said the pain Ms Cox's family and friends must be enduring was "unimaginable", adding: "Our thoughts and prayers are with them at this terrible time."
Mr Corbyn said: "The whole of the Labour Party and Labour family - and indeed the whole country - will be in shock at the horrific murder of Jo Cox today.
"Jo had a lifelong record of public service and a deep commitment to humanity. She worked both for Oxfam and the anti-slavery charity, the Freedom Fund, before she was elected last year as MP for Batley and Spen - where she was born and grew up.
"Jo was dedicated to getting us to live up to our promises to support the developing world and strengthen human rights - and she brought those values and principles with her when she became an MP."
---
In Westminster: BBC political correspondent Chris Mason
Politics is a craft and a practice so easily scorned; for scorn is what democracy not only allows, but encourages.
But for all its many imperfections, it's a craft grounded in putting us, the people, in charge.
So, an attack on one of the people's representatives is felt by all here at Westminster desperately, desperately keenly.
Tonight, gaze up at the Palace of Westminster's Victoria Tower and you'll see the iron flagstaff hosts the Union flag at half mast.
Below it, in Parliament Square, a vigil.
A candle flickers.
Flowers are propped up against a flag pole.
MPs, parliamentary staff and civil servants mingle.
Westminster is so often associated with one thing. Noise.
Tonight, instead, a reflective quiet.
---
"Jo died doing her public duty at the heart of our democracy, listening to and representing the people she was elected to serve. It is a profoundly important cause for us all."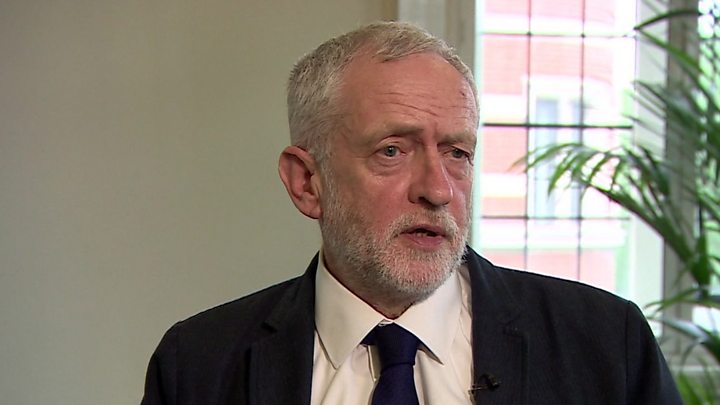 He said Mrs Cox was "universally liked at Westminster, not just by her Labour colleagues, but across Parliament".
He added: "In the coming days, there will be questions to answer about how and why she died. But for now all our thoughts are with Jo's husband Brendan and their two young children. They will grow up without their mum, but can be immensely proud of what she did, what she achieved and what she stood for."
Labour's deputy leader Tom Watson said: "The whole of the Labour movement is devastated at Jo's death. We have lost a colleague so young who had much more to contribute to public life. She was our future."
US Secretary of State John Kerry described the killing as an "assault on democracy".
He said: "I join you in expressing my deep sorrow that a young parliamentarian, who obviously was a young woman with an enormous talent, has been killed in the conduct of her duties with her constituency."
Former US Congresswoman Gabrielle Giffords, who survived a shooting in 2011, said: "Absolutely sickened to hear of the assassination of Jo Cox. She was young, courageous and hardworking. A rising star, mother and wife."
Scotland's First Minister Nicola Sturgeon said: "My heart breaks for her family."
Liberal Democrat leader Tim Farron said he was "utterly heartbroken" while former mayor of London Boris Johnson described it as "appalling".
Former prime minister Tony Blair said: "This is absolutely tragic. Such a pointless and savage act of hatred contradicts everything Jo lived for and worked for."
UKIP leader Nigel Farage said he was "deeply saddened".
Mrs Cox, who entered Parliament at last year's general election died after the attack on Thursday afternoon.
A 52-year-old man was arrested near Market Street, Birstall, West Yorkshire Police said. The MP held a weekly advice surgery nearby. Police said they were not looking for anyone else in connection with the attack.
---
Are you in the area? Have you been affected? Did you witness the incident? You can share your experiences by emailing haveyoursay@bbc.co.uk with your stories.
Please include a contact number if you are willing to speak to a BBC journalist. You can also contact us in the following ways: