Week ahead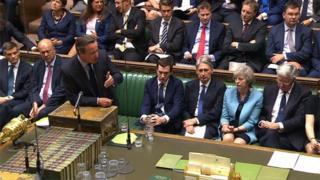 There's some high-powered law-making to be done this week - on policing and crime, and children and social work - but I can't help wondering whether our parliamentarians might be going through the motions a bit, making their final three sitting days before the special referendum recess a kind of phoney war period.
If there are euro-fireworks, the most likely flashpoints are at the Commons question times - where Home Office, Justice, Cabinet Office (in charge of the online voter registration system, remember) and Prime Minister's questions all provide rich opportunities for the referendum campaigns to have a go at each other.
And with increasing "blue on blue" attacks in recent days normal parliamentary politesse may be in short supply.
The other big event will be the result of the election for a new Lord Speaker, to take over from Baroness D'Souza, in September. The election was held on Wednesday 8 June, but - as with the Speakership of the Commons - the result could not be confirmed until the winner had received the Royal Approbation, the approval of the Queen. The former health secretary, Lord Fowler, is the favourite.
Monday
The Commons opens (2.30pm) with Home Office questions - and any post-weekend urgent questions or ministerial statements will be taken at 3.30pm.
Then MPs move on to another big day of report stage proceedings on the Policing and Crime Bill. It may not be quite as intricate as the previous week's action on the Investigatory Powers Bill, but, as often happens with this type of criminal law bill, there are all kinds of amendments raining down from many different sources. There are plenty of issues attracting attention.
Labour will have amendments down on a series of "victims' rights" issues - some inspired by the Hillsborough case, where shadow home secretary Andy Burnham has been active. A particular issue is ensuring some equality between victims or their relatives, and public authorities, in inquests and court cases, where they are often ranged against high-powered taxpayer-funded QCs.
Labour will also be attempting to build some of the provisions of former DPP Kier Starmer's unsuccessful private member's bill on rights and entitlements of victims, from last year, into this bill.
One of the big areas of interest is the treatment of mental health in the criminal justice system: Labour have a new clause (NC24) on the right to an independent mental health advocate. The Conservative backbencher and mental health campaigner Charles Walker has NC2 which says that someone detained against their will in a place of safety shall have the right to independent legal advice, and another NC42 that would require the home secretary to be notified whenever police officers are deployed on psychiatric wards.
And the Lib Dem former health minister Norman Lamb offers NC40 banning the use of tasers on psychiatric wards. He has another amendment calling for people not to be removed to a place of safety that is a police station, except when their behaviour is so extreme they cannot be safely managed and no alternative place of safety is available.
Another big subject area is child sexual exploitation where Mr Lamb pops up again with NC45 which requires that when the police or a local authority think a child has been sexually exploited or abused, they must refer them for assessment and make any necessary arrangements for their treatment or care. There's a cross-party new clause, NC25, along similar lines, to enable the Future in Mind report's recommendation that young people who have been sexually abused or exploited should receive a comprehensive initial assessment, and referral to appropriate services.
There's cross party backing for NC6 to create the offence of abduction of a vulnerable child aged 16 or 17 - which is signed by Labour's Sarah Champion, Plaid Cymru's Liz Saville Roberts, the Green MP, Caroline Lucas, and the Lib Dem Alistair Carmichael. And a similar list of names appears on NC10, on the prevention of child sexual exploitation and private hire vehicles which would place local authorities under a duty to consider how they can prevent child sexual exploitation when they issue licences for taxis and private hire vehicles
Labour's Ann Coffey, who led an inquiry by an all-party group into sexual exploitation has new clauses NC14 and NC13 creating prevention orders to stop grooming for criminal behaviour. Then there's NC18 from the Conservative Kit Malthouse to increase the maximum sentence for child cruelty from 10 years in jail to 14. Another new clause from Mr Malthouse, NC15, calls for a review of sentencing guidelines on crime against children and crimes where the victim is a child. And he also has NC16 which allow the police to apply for an order to mobile phone providers to block numbers on cards advertising prostitution.
Plaid's Liz Saville Roberts has a series of clauses to give the National Assembly for Wales responsibility for policing - giving powers over policing, police pay, probation, community safety, and crime. And she also picks up the interest in cyber-crime taken by her Plaid predecessor Elfyn Llwyd with NC3 calling for a review of digital crime legislation with a view to consolidating it into a single statute. And she wants to add to the legislation with NC4 which would outlaw various forms of "cyberstalking" - it would become an offence to use a digital device to repeatedly locate, listen to or watch a person without legitimate purpose, to install spyware, a webcam or any other device or software on another person's property or digital device without permission. The clause lists a whole series of cyberstalking practices and it also calls for restrictions on the sale of spyware to under-16 s and require anyone purchasing it to state how they intended to use it.
There's an anti-doping clause - NC39 - from Labour's Christina Rees - which would make it an offence to knowingly take a prohibited substance to boost performance. It would cover the entourage of an athlete and medical professionals who prescribe a prohibited substance.
The Lib Dem former Scottish secretary Alistair Carmichael has two new clauses NC46 and NC47 on revenge pornography, making the disclosure of private sexual images with intent to cause distress an offence and providing a mechanism for compensation.
The normal report stage caveats apply - not all of the above will be discussed - and some of the amendments and new clauses will be aimed more at pressing ministers to respond to an issue than at getting written into law. Look out for assurances that changes will be brought forward when the bill reaches the Lords... and look out for close votes on particular subjects, because that often provides a cue for peers to revisit the issue
In Westminster Hall from 4.30pm - 7.30pm MPs will debate e-petition 125692, entitled Stop spending a fixed 0.7% slice of our national wealth on Foreign Aid.
In the Lords, from 2.30pm peers will hear the result of their election for a new Lord Speaker. Then, after the regular half hour question time, they debate reports from two select committees: the Digital Skills Committee and the European Union Committee report on EU energy governance.
Tuesday
The Commons meets at 11.30am for Justice questions and then they have the second reading of the Wales Bill - which sets out new powers to be transferred to the National Assembly for Wales or Welsh ministers.
It also changes the basis on which the Assembly operated by moving to a "reserved powers model" along the lines of the devolution settlement in Scotland. The aim is to provide a clearer separation of powers between what is devolved and what is reserved to Westminster, allowing the Assembly to legislate on any subject not specifically reserved to Parliament.
The day's Adjournment Debate is on provision for air passengers with dementia - led by the Conservative, Oliver Colvile.
In Westminster Hall, there are debates on affordable housing in London (9.30am-11am); plutonium disposition (11am-11.30am); West Coast Rail franchise (2.30pm-4pm) and elected mayors outside city regions (4.30pm-5.30pm).
In the Lords (from 2.30pm), after the usual half hour of questions to ministers, the main event is the second reading of the Children and Social Work Bill - Labour's Lord Watson of Invergowrie will put down an early marker expressing the Opposition's displeasure that so many of the core provisions will be left to regulations, to be published later. This runs against the recommendation of the Constitution, Secondary Legislation and Delegated Powers Committees of the Lords, who're concerned that too much major policy is pushed through when "skeleton bills" are fleshed out, after they've been passed. The argument is that this undermines proper scrutiny.
This is particularly important, Labour say, when Clauses 20 - 40 of the bill provide for the secretary of state to set up a new regulator of social workers (which could actually be the secretary of state).
This power and all details relating to the new regulator are left to secondary legislation which the House has yet to see - and the Labour calls on the government to publish the draft regulations before the House considers those clauses in committee.
Wednesday
The Commons begins (11.30am) with Cabinet Office questions - followed at noon by the last Prime Minister's question time before the EU referendum, which will doubtless be a pretty charged occasion. Afterwards, the euro-vibe will continue with a Labour Opposition Day debate on the economic benefits of the United Kingdom's membership of the European Union.
They don't normally nominate the subject of their debates as early as this - but on this occasion, I suppose, it's a no-brainer.
In Westminster Hall, the debates cover jobs and livelihoods in developing countries, led by Conservative development specialist Jeremy Lefroy (9.30am-11am); infrastructure and regulations to support electric and low-emission vehicles (11am-11.30am); further education colleges and skills in Greater Manchester (2.30pm- 4pm); support for social investment (4pm-4.30pm) and, finally the Conservative Wendy Morton has a debate (4.30pm-5.30pm) aimed at highlighting the effect of the EU's proposals to achieve a 40% reduction in greenhouse gas emissions by 2030 on the UK ceramics industry - a big employer in her West Midlands constituency - it may have to buy all its carbon allowance after 2021, imposing what she warns will be "a huge economic burden".
In the Lords, 11am question time is followed by a debate on a series of European Union Committee select committee reports on "The EU referendum and EU reform", "The process of withdrawing from the European Union", plus the Science and Technology Committee report on "EU Membership and UK Science".
And then there is a debate on the European Union Committee reports on "The EU Action Plan against migrant smuggling" and "Operation Sophia, the EU's naval mission in the Mediterranean: an impossible challenge".
And with that, Parliament rises for the EU referendum.
MPs and Peers are due to return on 27 June - there's even a published agenda. But whether they stick to it rather depends on the referendum result. They may even come back for a Saturday sitting - the first since the Falklands War - if there is a vote to leave. Certainly there are contingency plans in place, for that eventuality.