IPSA chief Sir Ian Kennedy's parting shot at critics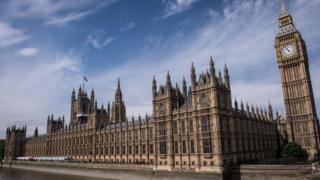 The departing head of the Parliamentary expenses watchdog has defended the decision to award MPs a 10% pay rise in a parting shot at his critics.
Sir Ian Kennedy said the "unpopular" decision had been proved right.
The Independent Parliamentary Standards Authority was set up as a response to the expenses scandal, but the new system has been criticised by some MPs.
Sir Ian compared his task to "mud-wrestling" and being a "voyager through Dante's Inferno".
In the introduction to IPSA's report on the last Parliament, he said he had been "turned over" by Westminster journalists when he was appointed to the job, and said there were loud "noises off" criticising the new body after it was created in 2009.
Gradually however, he said, "the message began to get through that there was no going back to the old ways and that the new ways were working".
'Marker'
There was anger among unions and some MPs at the rise from £67,060 to £74,000, implemented in June 2015, which IPSA said brought members into line with comparable roles in the public sector.
David Cameron was among those urging a rethink but a year on, Sir Ian said, "there is a sense that we were right and that IPSA put down a marker that it will make tough decisions if the reasons are good and the public interest is served thereby".
Looking back on his six years as chairman, Sir Ian said: "Broken down into component parts, it has been part constitutional reform, part mud-wrestling, part pioneer frontiersman, and part voyager through Dante's Inferno."
He said his organisation was now visited by representatives from foreign legislatures to see how it works.
IPSA's report also sets out how the system worked in the previous Parliament.
FOI battle
It published almost a million claims made by MPs and their staff between 2010 and 2015, with paid claims - for things like staffing, travel and accommodation - totalling £14.8m last year.
Fewer than 1% of claims are not paid, IPSA said, and it no longer checks all claims individually. However, a second "validation" phase involves all of an MP's claims being checked every three months.
Issues that continue to concern the public include MPs employing relatives and travel claims, the report said.
It said the term "expenses" was no longer used because of a "connotation of personal benefit", with "business costs" the preferred wording.
'Easy to understand'
A Freedom of Information Act request for redacted copies of some receipts was resisted because "an important principle was at stake", the report said.
IPSA was eventually ordered to publish the receipts in question, and receipts are now published on request.
Most FOI requests to the watchdog are from members of the public, with 10% from MPs and their staff, it says.
Sir Ian is being succeeded by former charity leader Ruth Evans, a non-executive director at the Serious Fraud Office and former chief executive of the National Consumer Council.
She promised "robust and easy to understand rules".