George Osborne tells MPs to focus on EU 'substance'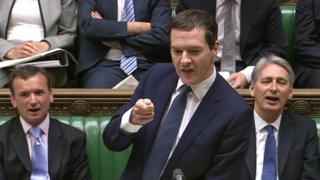 George Osborne denied pro-EU government web pages were breaching electoral law as he urged colleagues to focus on "the substance rather than the process".
Filling in for David Cameron at PMQs, the chancellor faced hostile questions from Brexit-backing Tory MPs, including Bernard Jenkin who called for the pages to be taken down.
Labour's Angela Eagle said the campaign had descended into "vicious acrimony".
Mr Osborne said it was no secret Tory MPs had different views on the EU.
He and Ms Eagle, the shadow business secretary, faced each other over the despatch box because David Cameron was at a G7 meeting in Japan.
Ms Eagle, who is also Labour's shadow first secretary of state, challenged Mr Osborne to agree with pro-EU trade union leaders rather than some of his Leave-supporting ministerial colleagues who she suggested had been banished from the government front benches.
"This issue does divide parties, families and friends," Mr Osborne replied, adding that it would be settled by the British people.
The EU referendum takes place on 23 June.
The debate between Leave and Remain has become increasingly bitter in recent days, with claims the might of the government machine is being used to "scare" people into voting to stay in.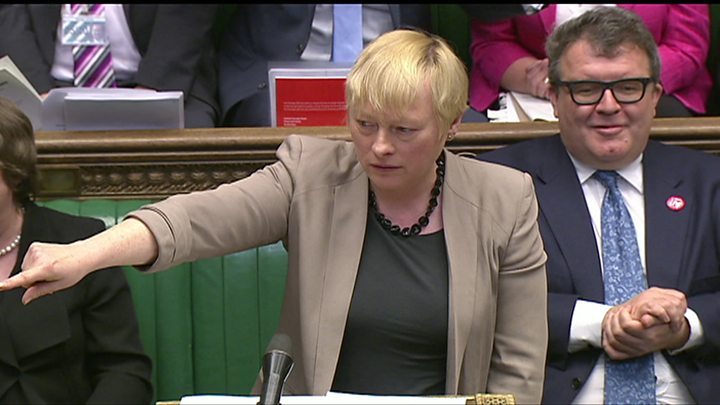 Backbencher Philip Davies accused the government of producing "dodgy dossiers" as he drew parallels with the Iraq war inquiry, while Richard Drax made a reference to "threats" over jobs and business investment.
Mr Jenkin, the chairman of the Commons Public Administration and Constitutional Affairs Committee, has repeatedly called for pro-EU sections of the government's website to be taken down when new campaign restrictions come into force on 27 May (the purdah period).
The Electoral Commission has advised that the website pages can legally stay up as long as they are no longer updated.
'Honourable disagreements'
But Mr Jenkin said his committee had published three legal opinions that "make it perfectly clear it is illegal" and accused the government of "planning to break the law".
"Of course the government will comply with the law and government websites will comply with the purdah rules, and we are confident that they do," Mr Osborne replied.
"But can I make a general observation. You and I have fought for this referendum, the referendum is taking place, there are some huge issues at stake about Britain's economy, Britain's security, Britain's place in the world.
"We have perfectly honourable disagreements on those big issues. Let's debate the substance rather than the process and then the British people will feel they've had a range of opinions and they can make their mind up."
Speaking afterwards, the prime minister's spokesman said no new content relating to the EU campaign would be added, and no links sent out relating to existing material. But he said the government would not be taking anything down from the websites.
'Muzzled'
At the end of Prime Minister's Questions, Conservative MP Anne Main hit back at Mr Osborne's call for "substance" to be debated, saying she was trying to do this but questions she had tabled to the business department had not been answered.
"They are trying to muzzle us, who are trying to get to the truth of all this," she said as she raised a point of order in the Commons.
"They're trying to just make sure we do not get any answers.
"The government is acting disgracefully and I am ashamed at their behaviour in this way."
Speaker John Bercow sympathised with her and said the department's response had been "unsatisfactory".