Labour leader Jeremy Corbyn addresses Progress conference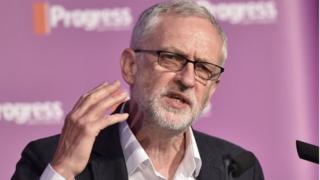 Labour leader Jeremy Corbyn has called for inclusivity in the party, as he addressed the annual conference of Blairite group Progress.
Addressing members, who include some of Labour's best-known MPs, he said he was not interested in hearing "personal abuse" but wanted the party to concentrate on "inclusive politics".
Progress was founded by Lord Mandelson to promote New Labour ideas.
It is the first time Mr Corbyn has attended its conference.
He was greeted with laughter when he said: "It is my first time speaking here.
"In fact it's the first time I've ever been invited to a Progress conference - you set a pretty high bar if you have to be elected leader of the party if you ever want to get invited here."
BBC political correspondent Iain Watson said it was interesting that Mr Corbyn was speaking to some of his fiercest critics - some of whom have been talking privately about trying to get rid of him as leader.
Progress has borrowed Mr Corbyn's "straight talking, honest politics" slogan for its 2016 conference in a further sign it is offering an olive branch to the Labour leader.
Mr Corbyn told members: "I don't do any kind of personal abuse.
"I don't make it and I don't respond to it because if I did I wouldn't have time to do anything else."
He said he wanted more debate as "working together the party can achieve great things".
He added: "I want to see our party even bigger and even stronger but above all united in the fundamental determination to challenge the economic strategy of this government.
"Our party is big, our party has wonderful traditions, our party has people with unbelievable levels of brilliance.
"Working together they achieve a great deal. A democratic policy making process that everyone feels part of and can come into is a very important step forward on this."
He ended by saying the central theme of the party was inclusivity.
He spelt out that this meant "everybody in society actually matters and we shouldn't walk by on the other side because somebody has been so badly treated they end up sleeping on the street and become just a statistic - they deserve to be treated properly and with respect".
Progress backed heavily defeated Blairite candidate Liz Kendall in last year's Labour leadership contest.
Shadow chancellor John McDonnell has described it as a "right-wing conservative" group which had never accepted Mr Corbyn as Labour leader.
Speaking in January, after several resignations from the Labour front bench, Mr McDonnell said: "They do all come from a narrow right-wing clique within the Labour Party, based around the organisation Progress largely.
"I don't think they've ever accepted Jeremy's mandate really."