Phone hacking: Kelly Hoppen settles Mirror case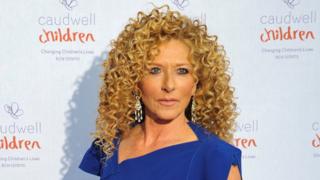 Former Dragons' Den star Kelly Hoppen has settled her phone-hacking claim against Mirror Group Newspapers.
The interior designer, 56, has received undisclosed damages, an apology and reasonable legal costs from the group, it was revealed in London's High Court.
Ms Hoppen's solicitor, Henry Fox, said the group had admitted in February to unlawfully intercepting phone messages.
The group said the method - which resulted in articles between 2004 and 2006 - should never have been used.
Ms Hoppen appeared on BBC Two's Dragons' Den for two series before quitting the show in January 2015.
She is also the former stepmother of Sienna Miller, whose past relationship with fellow actor Jude Law was of huge interest to the tabloid media.
In 2011, Ms Hoppen accepted £60,000 in damages over a separate phone-hacking case involving the now-defunct News of the World.
Ms Miller's phone was also hacked by the paper and in 2011 she received £100,000 in damages.
Mr Fox said a separate claim brought against Mirror Group Newspapers by Hilary Perrin - who from 2000 to 2006 was director of regional organisation for the Labour party and also director of the London Labour Party - had also been settled with the payment of damages, costs and an apology for the damage and distress caused.
He said Ms Perrin's voicemails had been hacked in February, March and April 2004 and she was also targeted by private investigators on two occasions.
Ms Perrin had never sought publicity and was distressed to think the paper had potentially jeopardised her political career by intercepting private messages left by those who had placed their trust in her, he added.
Ms Waite said that Mirror Group Newspapers acknowledged Ms Perrin's information should never have been obtained or used in the manner it was.
Neither Ms Hoppen nor Ms Perrin were in court.