Norman Lamb: Gains signal Lib Dem 'fight back'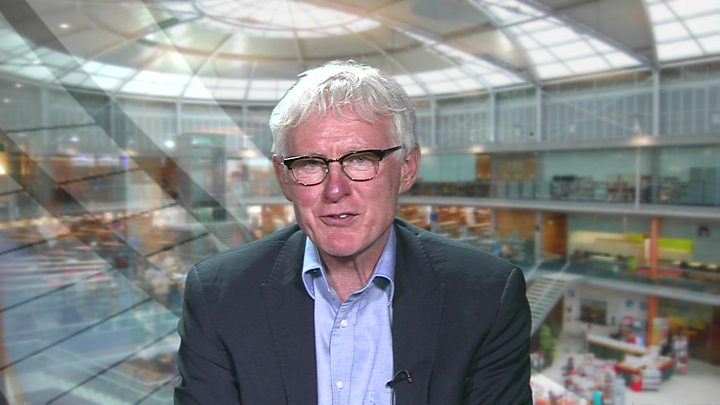 Former Liberal Democrat leadership contender Norman Lamb claims the party is "fighting back" following "modest gains" in England's local elections.
The Lib Dems, who were almost wiped out in the 2015 general election, have 289 councillors so far - an increase of 29.
The party has won five seats in the Scottish Parliament election, but just one in the Welsh Assembly.
"It's very many years since I was last able to say 'Lib Dem gains' but that's what we're seeing today," said Mr Lamb.
"It's modest, there's nothing dramatic happening, but we're up four points on last year. We have gained two constituencies from the SNP in Scotland - that would have been hard to imagine a few months ago.
"Kirsty Williams in Wales won a seat that we lost to the Conservatives in the general election last year - and across England, modest gains - so green shoots after a near fatal knock out blow last year and it shows that there's still life there and we're fighting back."
Rebuilding
The party lost one seat on the London Assembly, reducing it two.
Meanwhile, John Leech, former Lib Dem MP for Manchester Withington, has resumed his seat on Manchester City Council.
The Liberal Democrats, who were in coalition with the Conservatives between 2010 and 2015, were hammered in last year's general election, when their ranks of MPs were reduced from 57 to eight.
Mr Lamb, a former health minister, told the BBC his party now has to be very clear about what it stands for "so people understand the point in voting for the Liberal Democrats", adding there is "a desperate need for a liberal progressive movement" to challenge the Conservatives as Labour has "taken itself off to the left".
"If you just get a sense that the Tories have no challenge, then you get arrogant and complacent government and that's why it's just so important that we rebuild and rebuild as fast as we can," he said.
Fellow Lib Dem MP Tom Brake said while the party is not "cracking open any bottles of bubbly" in the wake of the results, "any gains" are good news, and the task now is to rebuild its identity "which got lost" during its time in the coalition.
"The party as a whole will feel we fought a good battle yesterday and it's paid off. We're positive about our future now," he said.