Jeremy Corbyn: Labour's 'hung on' and defied pessimists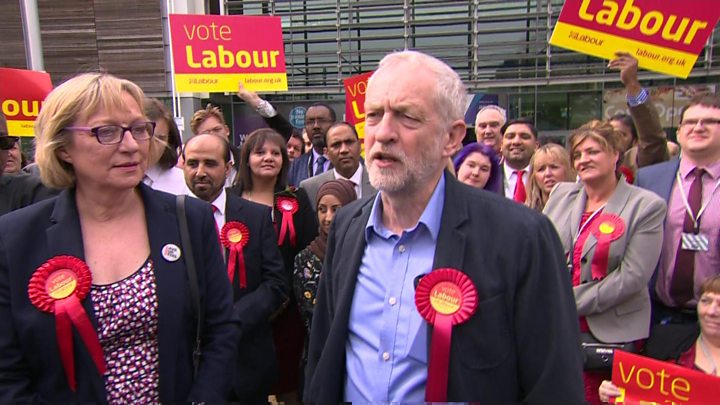 Jeremy Corbyn said his party had "hung on" and defied predictions of local election losses in England.
The Labour leader hailed an "excellent" result in Wales and pledged to "walk hand in hand" with Scottish colleagues after they slipped to third behind the Conservatives.
Labour retained control of several key councils in England and remained the largest party in Wales.
Shadow chancellor John McDonnell told "begrudgers" to "put up or shut up".
Pollsters had predicted losses for Labour in the local elections, with the party defending gains it made in 2012 under Ed Miliband.
Speaking alongside Gill Furniss, who won Sheffield Brightside and Hillsborough in one of two Labour Parliamentary by-election holds, Mr Corbyn said: "All across England last night we were getting predictions that we were going to lose councils. We didn't.
"We hung on and we grew support in a lot of places."
He congratulated the "hard work" of campaigners in the Scottish Parliament elections, adding: "There is a lot of building to do in Scotland.
"We are going to be with you. We are going to walk hand in hand with the party in Scotland to build that support up once again so that the Labour tradition in Scotland will be established once again."
---
BBC analysis on Labour's performance
They were lining up to denounce him - and some have actually done so. Labour MPs who are convinced that if Jeremy Corbyn remains their party leader, defeat at the next general election will be inevitable. But the results were messier than they predicted.
---
Labour remained the largest party in Wales, but fell short of a majority, suffering a shock defeat in the Rhondda seat to Plaid Cymru leader Leanne Wood.
In London, Sadiq Khan is set to beat Tory Zac Goldsmith to become London mayor.
In the build-up to the polls there were reports of a possible leadership challenge to Mr Corbyn if results did not go his way.
A senior Labour MP told the BBC Mr Corbyn had a year to improve his performance, warning a "weak leader" was a problem on the doorstep and describing the party's performance as "shocking".
'Stop carping'
The GMB union called on critics of Mr Corbyn to rally round but said it also expected the Labour leader to raise his game.
"We're at the stage when we should be winning hundreds of seats," Tim Roache, its general secretary said.
"Let's give it a go. Let's give it a go for a year or so. Who knows what might happen? Leicester City won the Premier League only the other day. Who knows."
But Mr McDonnell told critics to "get behind the leader of the Labour Party that was democratically elected".
He added: "I think most Labour Party members are saying 'look, you're damaging our campaign by the continuous carping'.
"I've never been in a situation where, two days before a poll, a group of them are talking to the media about a leadership coup - and yet we still do well."
Former Labour minister Lord Falconer urged the party to focus "outwards" following a row over anti-Semitism involving the suspension of MP Naz Shah and ex-London mayor Ken Livingstone.
"There's real issues that need to be dealt with, but this idea of a divided party makes the Labour party despair and the public despair," he added.