Nigel Farage predicts UKIP election 'breakthrough'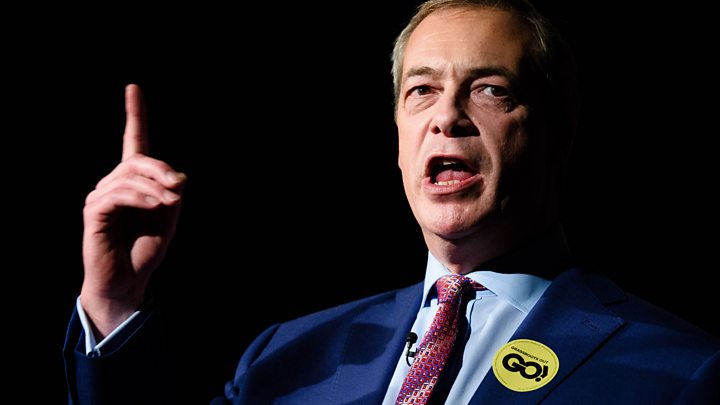 Nigel Farage claims UKIP is poised to make a "significant breakthrough" in next week's elections in Scotland, Wales, Northern Ireland and London.
He said he was the "only party leader who has got a chance of winning seats in all four of them".
The party is also defending 200 seats on English local authorities and standing in police and crime commissioner elections.
UKIP has been hit by internal rows over candidate selection.
But Mr Farage insisted that had nothing to do with him, in an interview with BBC Radio 4's Today programme.
He said he wanted to use the 5 May elections as a springboard for UKIP's campaign to get Britain out of the EU in 23 June's referendum - but denied the party was a "single issue" campaign.
"We have moved way beyond people voting UKIP as a protest, to send a message, and what we are seeing is a very strong consolidation of the UKIP vote.
"People now want to vote UKIP in every possible form of election. We have made some big advances in councils over the course of the last couple of years.
"And I do anticipate more of that on 5 May, but for me the big goal on 5 May is to win representation in the London Assembly, the Scottish Parliament, the Welsh Assembly and the Northern Irish Assembly.
"I think I am the only party leader who has got a chance of winning seats in all four of them."
'Party democracy'
The UKIP leader has been touring the country to drum up support for UKIP's candidates, including six visits to Northern Ireland, where UKIP hopes to gain its first Stormont seat.
The party has never had any members of the Scottish Parliament either, although it gained its first MEP in Scotland in 2014. It has had London Assembly members in the past but does not currently have any.
Polls suggest the party is on course to gain its first seats on the Welsh assembly, where its candidates include former Conservative MPs Neil Hamilton and Mark Reckless.
Some UKIP activists claim the pair were imposed on Wales by party HQ in London at the expense of local contenders.
The party's leader in Wales, Nathan Gill, said he would "probably" not have selected Mr Hamilton, whose career as a Conservative MP was cut short by "cash-for-questions" allegations.
But Mr Farage said Mr Reckless and Mr Hamilton had been selected by UKIP members in Wales, adding: "That's party democracy."
Five Star movement
He also said he had nothing to do with the decision to suspend prominent UKIP figure Suzanne Evans, seen as a potential leadership rival to him, for six months over allegations of bringing the party into disrepute.
But he declined to reinstate Ms Evans, who wanted to be a UKIP candidate in London, adding: "I don't think she behaved terribly well."
Mr Farage has recently spoken about his frustrations with the "volunteer" National Executive Committee that runs UKIP, suggesting the party needs a "professional management board".
He hinted in an interview with the BBC's Andrew Neil that he planned a major shake-up of the party after the EU referendum, possibly remodelling it along the lines of Beppe Grillo's Five Star movement, in Italy, which uses online polling to choose candidates and decide policy.
"I think the model where we send money and get a membership card that we keep in our wallet is just old hat," he said on the BBC's This Week.
He said he wanted a "completely different approach to politics and I think that's where UKIP needs to go".