MP targets wooden floors and mobiles in war on 'urban din'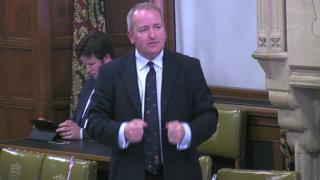 Wooden floors in new flats - and using mobiles outside after midnight - should be curbed as part of moves to tackle "urban din", an MP has suggested.
Mark Pritchard, who also wants rubber linings on car doors to allow them to be closed quietly, says rising noise levels are hitting quality of life.
He also saw no need for emergency services' sirens after midnight.
"The right to respite from constant noise needs to be a feature of government policy," he told MPs.
During a parliamentary debate, which the Conservative MP for Wrekin said was a first in Commons history, Mr Pritchard said there had been a lot of discussion about making cities greener and smarter, but little thought given to making them quieter.
He noted there were no cities in his Shropshire constituency, or in the entire county, and that Ludlow had designated itself a "slow town".
'Noise buffers'
He cited research suggesting unremitting noise pollution helped cause sleep deprivation and high blood pressure and, in extreme cases, was a contributory factor in hearing loss and cardiovascular disease.
"Loud cities do have an impact on the quality of life of millions of people," he said. "They also have an impact on our health."
Among the mitigating measures that should be encouraged, he said, were tree planting, the use of "noise buffers" in landscaping, more car-free areas, quieter pavements and road surfaces, the proper fitting of manhole covers and "polite notices" about loud conversations and mobile ring tones on public transport.
Rubber lining should become mandatory in car doors in the future as "metal on metal makes noise".
On emergency services, he said: "Some of the sirens are so ear-piercing. The ambulances do seem to be, anecdotally, far louder than the police. Do they need to be used after midnight when the blue lights can be seen?"
He also hit out at the London Duck tours which he said were causing "real disruption" to the lives of residents
He said: "The right to respite from constant noise needs to be a feature of government policy, part of its strategy, not a by-product of another government policy.
In response, environment minister Rory Stewart put £7bn a year on the cost of "damage done by noise to health and quality of life".
He said: "I really would encourage cities and towns around the country to think seriously about the way in which different towns ranging from Yinchuan to Hartford to Brisbane have managed to really create a culture around tranquillity, the ways in which British towns and cities could take the lead in creating a culture around tranquillity.
"And in doing so accept that from the very beginnings of the human language perhaps the most fundamental word - spiritually, emotionally, physically - has been the concept of peace."