Whittingdale's free press support 'tested' by reports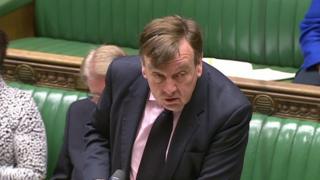 John Whittingdale has told MPs press freedom is vital - despite his belief being "tested to the utmost" following reports about his private life.
The Culture Secretary has faced calls to withdraw from press regulation decisions after news of his relationship with an escort.
He said politicians must "tread very carefully" on press regulation.
He also said the government had an "open mind" on implementing the rest of the Leveson review into the press.
Making his first Commons appearance since the story broke, Mr Whittingdale said he had "considerable sympathy with the victims of press abuse" and that he'd had a number of meetings with some of them.
Backbench MP Simon Danczuk accused him of breaking the prime minister's promise to implement the 2011 inquiry in full.
"Having had my faith perhaps tested to the utmost I still believe that press freedom is a vitally important component of a free society and we should tread very carefully," Mr Whittingdale said.
Campaigners are calling for outstanding parts of the Leveson review - which would require newspapers to pay libel costs even if they won a case brought against them - to be implemented.
Mr Whittingdale said the government was "keeping an open mind about when to implement the remaining section", acknowledging a decision was needed "relatively quickly".
He also added that cost provision for victims could not come into effect until there was a "recognised regulator" in place.
Mr Whittingdale's opposite number, Labour's shadow culture secretary Maria Eagle joked that he had been distracted by "extra curricular activities" - adding that she was referring to his "moonlighting for the Leave campaign" ahead of the EU referendum.