Suzanne Evans fails in legal challenge to UKIP suspension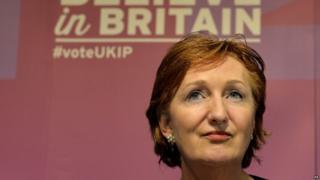 Former UKIP deputy chairwoman Suzanne Evans has failed in her High Court challenge to a decision to suspend her from the party for six months.
Ms Evans was seeking to overturn a ban which will prevent her representing the party as a candidate in May's London Assembly elections.
Leader Nigel Farage, who once named her as his preferred successor, denied the ban was due to her criticism of him.
A petition urging her reinstatement has secured more than 1,000 signatures.
Ms Evans said she was "stunned and distressed" by the suspension, which came after an internal disciplinary meeting found she publicly criticised a fellow candidate and held herself out as a party spokeswoman without authority.
"I will look to take up whatever right of appeal is open to me," she said.
"I remain determined to keep my personal focus on working to the full extent of my ability to help secure a 'leave' vote in the EU referendum on June 23, and contribute to electoral successes for UKIP on 5 May."
'Unfortunate'
In an interview with the BBC, Mr Farage would not comment on the reasons for her suspension.
"It's unfortunate," he said. "She is someone who appeared front-facing for the party and gave UKIP a good look in many ways. Sometimes people fall out with their own party and sometimes say and do things that perhaps they shouldn't."
Referring to Ms Evans' past comments about his leadership style, he added: "I haven't got time for revenge. I have got not just a referendum to fight but a massive set of elections in a few weeks' time on May 5 across the United Kingdom."
In a statement, a UKIP spokesman confirmed she would not be nominated as a UKIP candidate in the London Assembly elections.
Last year Ms Evans was demoted after saying in June "Nigel is a very divisive character in terms of the way he is perceived... he is not divisive as a person, but the way he is perceived in having strong views that divide people".
As deputy chairman she was in charge of writing UKIP's manifesto in the general election and was a prominent figure during the campaign.
'Very likeable'
When Mr Farage said he was resigning as leader after he failed to become an MP he anointed her as his successor, saying she had "emerged as an absolute tower of strength".
However, she was axed from her policy role in the party in-fighting which followed when Mr Farage changed his mind and stayed in the post of leader. Last month she lost her role as co-deputy chairman and welfare spokesperson.
But she remains one of the party's most prominent figures, and appeared earlier on Wednesday on Radio 4's Woman's Hour to make the case for improved women's rights outside the European Union.
Ms Evans recently joined the board of Vote Leave, a group campaigning for the UK to leave the European Union. Mr Farage has backed rival anti-EU group Grassroots Out.
A petition calling for the ban to be reversed, launched by MEP Patrick O'Flynn, has attracted 1,074 signatures.
One party member criticised the suspension and questioned whether UKIP's ruling National Executive Committee (NEC) had sanctioned it.
"How has she breached party rules? Nobody in the NEC is aware and nobody has taken a vote," said Amanda Sanders, chair of the Kenilworth and Southam branch of the party in the West Midlands.
"Suzanne Evans is very likeable and she would bring in the female voters and she needs support. I will resign over this and I think quite a few of my fellow chairmen are prepared to, as well."