Osborne under pressure from Tory MPs over disability benefit cuts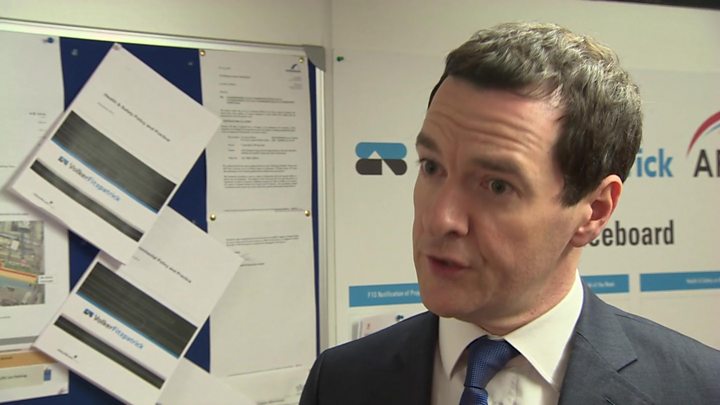 Pressure is mounting on George Osborne to rethink £4bn in cuts to disability benefits as a growing number of Tories express concerns about their impact.
Up to 640,000 people could have support for aids and appliances used for daily tasks either scaled back or removed.
One MP said Personal Independence Payments (PIP) were a "lifeline" while a minister said the policy was a "self-inflicted presentational problem".
George Osborne has insisted the "most vulnerable" will still be protected.
The chancellor said the overall disability budget "is going up" and ministers would be talking to colleagues and disability charities to "make sure we get this absolutely right".
'Disarray'
Labour said the cuts in support, announced last week and included in the Budget, were "shameful" and they would be forcing a vote in the House of Commons as soon as possible.
The government's slender majority means they could block the plans with the support of Tory rebels and the SNP, which is also against the changes to Personal Independence Payments.
Independent peer Baroness Meacher, who led last year's opposition in the Lords to proposed tax credit cuts, told the BBC there would be "tremendous support" among her colleagues to overturn the policy.
And the Liberal Democrats, who have more than 100 peers in the Lords, said they would seek to "axe" the plans if they were approved by MPs.
Labour's shadow work and pensions secretary Owen Smith said the government was in "disarray" over the policy.
"Hundreds of thousands of disabled people are worried sick at the prospect of having their PIP support cut and the Tory government are only making matters worse with their spin, confusion and lies."
Education Secretary Nicky Morgan - who said on the BBC's Question Time that the PIP cuts were just a "suggestion" at this stage - has been slapped down by Work and Pensions Secretary Iain Duncan Smith.
A source close to Mr Duncan Smith told BBC News the government was not in "concession territory".
They added: "I don't know how Nicky is explaining what she said, but she doesn't quite seem to have understood what Iain has been saying."
Quizzed about what she had meant with her Question Time comments, on a visit to Loughborough University, Ms Morgan said: "This is very much a matter for Number 10 and for the government press office and I'm not going to add anything to what I said last night."
'Lifeline'
The government wants to change the way the daily living component of Personal Independence Payments (PIPs) is calculated from January 2017.
This will see a re-evaluation of how new claimants and existing claimants who circumstances change or who are reassessed qualify for support for activities such as dressing, undressing and going to the toilet.
Government documents have indicated the change would save the government £1.3bn a year by 2020-21. The Institute for Fiscal Studies has said it could result in claimants losing an average of £3,500 a year.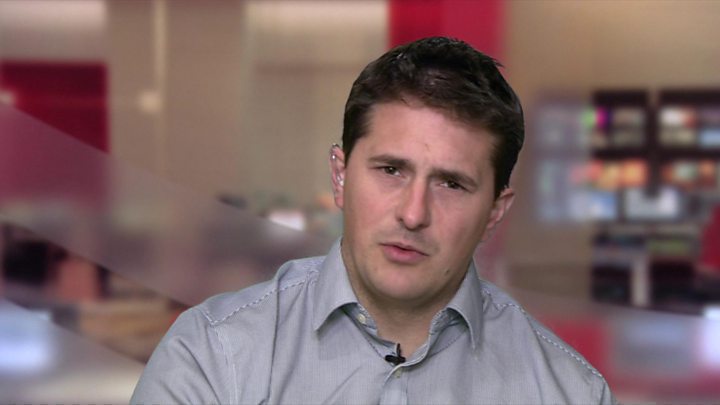 The government has faced intense criticism over the plans, with MPs warning they have not been properly explained and that it was mistake for Mr Osborne to announce them at the same time as Budget tax cuts for businesses and middle earners.
Johnny Mercer, the Conservative MP for Plymouth Moor View, said PIP was a "lifeline" for many of the most vulnerable people in society and urged ministers to proceed with care.
"I am concerned in terms of how we communicate this properly," he told the BBC's Daily Politics.
"In dealing with the most vulnerable groups in society, we need to be very, very careful and we need to work a lot harder to communicate what we are doing to these groups."
---
What are the proposed changes?
Recipients of PIPs are assessed using a points system to determine what level of help they receive. Claimants can get between £21.80 and £139.75 per week.
The money is meant to help people cope with the extra cost of living with a disability or long-term health problem and are used to fund everything from mobility cars to adapted baths and showers.
The weight given to the use of aids and appliances in two of the 10 daily living activities - dressing and managing toilet needs - will be reduced from January.
It follows an independent review, commissioned by the Department for Work and Pensions, which said a "significant number of people" were likely to be getting the benefit despite having "minimal-to-no" ongoing daily living extra costs.
But disability campaigners say the changes will make it harder for some disabled people to qualify for the benefit and prevent people hit by other benefit cuts from living independently.
---
The former soldier said ministers must explain their purpose was to eliminate "abuse and duplication" and reassure people the separate mobility element of PIP would not be affected.
"There have been veterans' charities ringing my phone ever since this came out and talking about this policy. I absolutely get that but we have to be careful about projections and what it actually means."
'Lost his touch'
Former minister Dan Poulter said he had "serious concerns" while Sarah Wollaston said it was "entirely wrong" to be cutting benefits at the same time as reducing tax for middle-earners
One minister told the BBC that the way the policy had been presented to the public was flawed.
"A number of colleagues are starting to wonder if George Osborne as Chancellor has lost his touch," he said. "This is a self- inflicted presentational problem".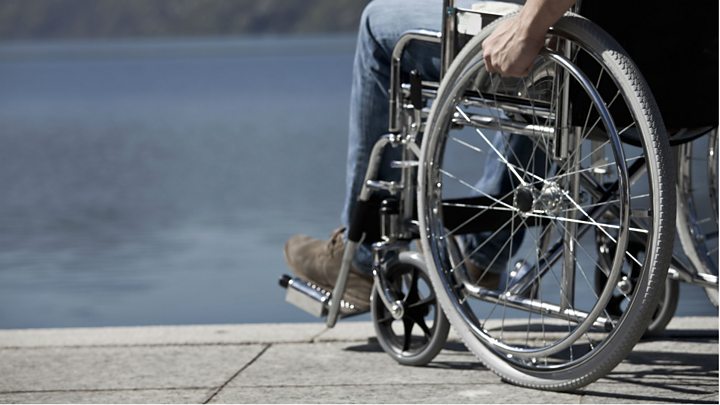 Labour leader Jeremy Corbyn said Mr Osborne had "declared war on the disabled".
"The announcement made by the chancellor is a reverse of the whole trend of the past three decades, to go back to saying disabled people can't lead independent lives, can't get the support they need."
He added: "Any of us could become disabled at any time. We're just a car accident away from a major disability. We should think about that."
Disability Rights UK said thousands of people would be left "institutionalised" in their own homes if the rules were changed.
Mr Osborne rejected claims disabled people were bearing the brunt of further austerity measures, insisting the overall amount spent on disability benefits was going up.
"As Iain Duncan Smith has said, we are going to make sure that it goes to those who need our help most. So in the coming months we will be talking to colleagues, to disability charities, to make sure we get this absolutely right."
---
Are you currently receiving disability benefits? What are your thoughts on the planned reforms? Let us know about your experiences. Email haveyoursay@bbc.co.uk with your stories.
Please include a contact number if you are willing to speak to a BBC journalist. You can also contact us in the following ways: