Labour MP Naz Shah tells of 'smear attempts' by party members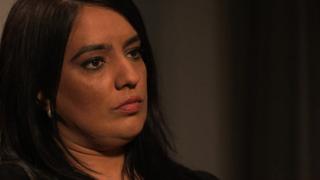 A Labour MP claims she has been the victim of "damaging" attempts to smear her reputation by some members of her local party.
"Clan loyalties" within parts of her community saw women blocked from political office, Naz Shah, MP for Bradford West, told BBC Newsnight.
A Muslim women's group has made similar claims of "systematic misogyny".
Labour said it had the best record of any of the parties in selecting female and ethnic minority candidates.
But Ms Shah said in her experience of some areas, "the kind of misogyny that exists is quite shocking".
On one occasion she was excluded from a meeting where party members agreed to look for "evidence to desecrate my character", she said.
One person had a print-out of a photograph of Ms Shah at a party which was used to suggest she drank alcohol, she said.
"Because I'm a Muslim woman who lives in Bradford, that would really be very damaging for me culturally," she said.
"It was just a picture of a friend and me at a party, and that was it - there was a bar behind, but I've not got a drink in my hand. I don't drink alcohol. But it's damaging."
'Power politics'
She added that there were some "very dubious practices" within some wards within her constituency where there was "a higher volume of Pakistani membership. That is a fact."
"It's a culture of gatekeeping. It's a culture of power politics for the sake of having power, and that power resides with men," she said.
"It's family loyalties, it's clan loyalties, it goes back to a Pakistani model of doing things."
She said some "good guys" in the community had advised her not to challenge it, saying "they will ruin you, just back down".
But she had felt compelled to speak out because "politics needs women, and women deserve better".
"We should be transparent and open and if there is anything that we need to be doing, including an inquiry, we should be doing it," she said.
She had had the utmost support from Labour leadership, and would be meeting party leader Jeremy Corbyn soon, she added.
'Pressured to be silent'
Newsnight has previously reported claims by Muslim women within the Labour party that they are blocked and intimidated out of local politics by cliques of men within the party from south Asian communities.
Gavin Shuker, MP for Luton South, previously told Newsnight he had felt "extremely pressured to be silent on the things I know to be true".
"I've been disappointed with the response from the Labour Party".
Last month the charity Muslim Women's Network UK wrote to Mr Corbyn claiming women have been stopped from becoming councillors by Muslim men in the party.
The Labour Party says it has been "at the forefront of the fight for women's equality". It added: "We have transformed the representation of women in politics."
"Any complaints or evidence of sexism or intimidation received by the Labour party are dealt with fairly according to our procedures and the law"