Guide to May 2016 elections in Scotland, Wales, England and Northern Ireland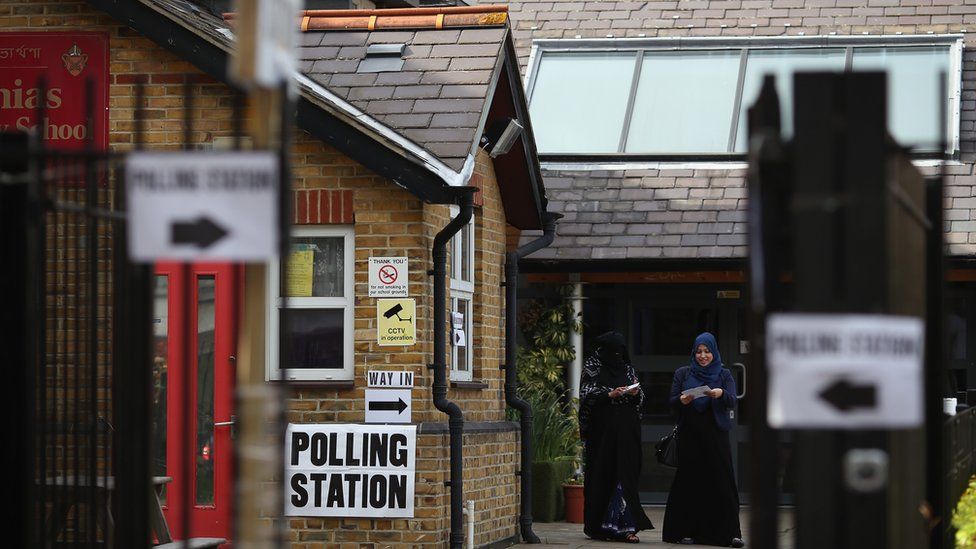 What's happening on Thursday, 5 May?
Britain goes to the polls in the biggest set of elections, outside of a general election, for some years. They are quite separate from the EU referendum, which is due to take place on 23 June.
Here is a rundown of the elections taking place on 5 May:
Scottish Parliament
Welsh Assembly
Northern Ireland Assembly
Local council elections in England
Mayor of London and London Assembly
Directly-elected mayors in Bristol, Salford and Liverpool
Police and crime commissioner elections
Two Westminster by-elections
When are the results declared?
Polls close at 22:00. After that, counting begins, with the results coming in at different points over the next 24 hours.
In London, counting the votes will begin the day after polling day, with the new mayor expected to be announced from mid afternoon. Votes cast for the London Assembly will also be counted on Friday.
Declarations in Scotland and Wales are expected overnight on Thursday, and during Friday in Northern Ireland.
Where to watch the results on the BBC
An election special, presented by Huw Edwards, starts at 23:45 on BBC One, after Question Time, with coverage throughout the night as results come in. On BBC Radio 5 Live, Jim Naughtie and Anna Foster present an election special from 00:30.
All the latest developments are on the BBC politics website, with rolling updates on the Election Live page.
Until polls close, we are limited in what we report.
How do I know if I can vote?
Anyone 18 or over on 5 May who is a British citizen living in the UK, a qualifying Commonwealth citizen living in the UK, or an EU citizen living in the UK, can vote in the English, Welsh, London or Northern Irish contests. In Scotland, 16 and 17-year-olds are also eligible to vote.
If you have received a polling card through the post then you are registered to vote. If not, you may need to check with your local authority that you are still on the electoral register, particularly if you have moved house recently. The deadline to register was Monday, 18 April.
Most people vote in person at a polling station on the day. It is normally a local school or community centre - the location will be on your polling card. You do not need to take the polling card with you in order to vote. A member of staff will give you a ballot paper with a list of candidates and parties on it. Put a cross in the box next to the ones you want to vote for.
The deadline to apply to vote by post has now passed. Ballot papers had to be completed and returned by If you have already applied, ballot papers should be completed and returned, ensuring you leave enough time for them to arrive by 22:00 on 5 May.
If you have a specific, long-term reason that you can't vote in person, such as a disability or being overseas, you can apply to allow someone to vote for you. Full details about proxy votes, as they are known, are on the Electoral Commission website.
If you are suddenly incapacitated or taken ill, you can apply to vote by proxy for medical reasons up until 17:00 on polling day. Polling stations are open between 07:00 and 22:00.
What happened last time: The SNP formed a majority government for the first time after the 2011 Holyrood elections. The elections use a mixture of first-past-the-post constituency seats, like at a general election, and proportional representation to select regional seats that act as a top up.
What to watch for: The SNP will be disappointed with anything less than another overall majority and will be expecting to amass an even larger one. Labour will be hoping to show some signs of recovery and prevent the Conservatives from overtaking them. The Lib Dems are competing to remain a viable force in Scotland.
What happened last time: Labour gained ground in the 2011 elections and chose to govern alone rather than in coalition with another party. Plaid Cymru's seats and vote share both dropped, as did those of the Lib Dems.
What to watch for: Labour will do well to maintain their current level of seats. The Conservatives have performed strongly in recent elections in Wales and will be hoping to make further progress. UKIP have strong hopes of gaining their first Assembly seats. Plaid Cymru will be hoping to make gains, while the Lib Dems are, as elsewhere, scrapping to stay in the game.
What happened last time: The last assembly election was held in 2011, with the DUP and Sinn Fein remaining the two largest parties. These elections use a system of proportional representation, known as the Single Transferable Vote, with voters ranking candidates in order of preference.
What to watch for: Each of the 18 Northern Ireland constituencies elects six members of the Legislative Assembly (MLAs) so there are a total of 108 MLAs. Few are expecting big changes, but there has been little polling on which to base a prediction.
What happened last time: Conservative Boris Johnson hung on as mayor by a tighter margin than expected in 2012, with a strong swing to Labour in the Assembly elections, which take place on the same day.
Assembly seats after 2012 election
What to watch for: Every election so far for the London mayor has basically been a Conservative v Labour battle. This time Sadiq Khan is Labour's candidate, with Zac Goldsmith standing for the Conservatives. The Greens' Sian Berry will hope her party again finishes above the Lib Dems, represented by Caroline Pidgeon. UKIP are snapping at their heals in the polls so Peter Whittle will look to improve on the party's past performance.
The other candidates look set to be: Former Respect MP George Galloway, Winston McKenzie, English Democrats; David Furness, BNP; Jonathan Silbermann, Communist League; Paul Golding, Britain First; Sophie Walker, Women's Equality Party; Lee Harris, Cannabis Is Safer Than Alcohol; Paul Tavares, Independent; John (Janek) Zylinski, Independent; Upkar Singh Raj, National Liberal Party.
English local authorities
State of play: Councils hold elections at different times. The last time these seats were up for grabs, in the immediate aftermath of George Osborne's 2012 "omnishambles" budget, Ed Miliband's Labour Party made big gains at the expense of the Conservatives and Lib Dems, adding 800 councillors.
Where elections are being held: 124 councils in England.
All seats are up for grabs in three councils: Sheffield, Knowsley and Rotherham
Metropolitan boroughs: A third of council seats are up for election in 32 of 36 Metropolitan boroughs including Birmingham, Leeds, Liverpool, Manchester, Newcastle and Sunderland. All but five are Labour held.
Unitary authorities: In three councils - Bristol, Peterborough, Warrington - all seats are up for election while 16 others have a third of seats up, including Derby, Hull, Milton Keynes, Portsmouth, Reading, Southampton and Swindon.
District councils: 12 district councils have all their seats up for election (mostly Conservative controlled towns like Colchester, Gloucester and Woking) while seven have half of their seats up for grabs. In a further 51 councils a third of their seats being contested (a mix of mostly Labour and Tory controlled towns scattered across England).
Mayoral elections: London, Bristol, Liverpool and Salford
Mayors are all elected in the same way, with voters marking their first and second choice of candidate. If no candidate gets a clear majority the top two go through to a second round with second preferences of eliminated candidates allocated to them to produce a winner.
The by-election was triggered by the decision of Labour MP Huw Irranca-Davies to stand for election to the Welsh Assembly. Mr Irranca Davies had a 35,250 majority in the South Wales seat.
The contenders hoping to replace him on 5 May are Glenda Davies (UKIP), Janet Ellard (Lib Dem), Chris Elmore (Labour), Abi Thomas (Plaid Cymru) and Alex Williams (Conservative).
Sheffield Brightside and Hillsborough by-election
The by-election was caused by the death of Labour MP Harry Harpham in February. Mr Harpham had a majority of 13,807.
The contenders are Gill Furniss (Labour), Christine Gilligan Kubo (Green), Stevie Manion (Yorkshire First), Shaffaq Mohammed (Lib Dem), Spencer Pitfield (Conservative), Bobby Smith (Give Me Back Elmo) and Steven Winstone (UKIP).
Police and crime commissioners
State of play: Police and Crime Commissioners (PCCs) were invented by the Conservatives to increase local accountability. They replaced the previous model of police authorities in England and Wales and have powers to hire and fire chief constables and set police strategy and budgets.
The first police and crime commissioner elections in 2012 were mainly notable for very low turnouts of between 10% and 20%. The system has been on probation ever since, amid calls for it to be scrapped, but the Home Office is to grant PCCs greater powers after May.
What to watch for: Voting will take place in 40 police areas in England and Wales, excluding London, where the Mayor is classed as the PCC for the Metropolitan Police and there are separate governance arrangements for the City of London police, and Manchester, where the role of PCC is set to be abolished in 2017, and replaced by a directly elected mayor.
The voting system is the same as the one used to elect mayors, with voters marking their first and second choice of candidate. If no candidate gets a clear majority the top two go through to a second round with second preferences of eliminated candidates allocated to them to produce a winner.
The Conservatives gained the most PCCs in 2012, with 16, followed by Labour on 13. The remaining 12 were independents. As many as half of the PCCs elected in 2012 will not be seeking re-election, making predictions difficult.