McDonnell vows 'responsible' rules to control Labour spending
A future Labour government would control public spending through a "fiscal credibility" lock, shadow chancellor John McDonnell has said.
Under his plan, day-to-day spending would not exceed government income although there would be scope for borrowing for capital investment.
"There is nothing left wing about excessive spending, nothing socialist about too much debt", he said.
The Tories said Labour had a history of spending and borrowing too much.
And Spencer Livermore, a former aide to Ed Miliband, said the policy was scarcely different from what Labour offered at the last election and the party risked "repeating its mistakes".
Mr McDonnell's announcement comes five days before the Budget, in which Chancellor George Osborne is widely expected to confirm the UK's economic performance has deteriorated in recent months and announce further spending cuts to reduce the deficit, forecast to be £73.5bn this year.
The shadow chancellor said this was an "astonishing turnaround" from Mr Osborne's more upbeat assessment of the UK's economic prospects at the time of November's Spending Review and that the chancellor was now having to "admit shamefaced" that the outlook was not so rosy.
Labour is under pressure to demonstrate it can be trusted on the economy after its election defeat, which was widely blamed on its failure to convince the public it had a plan to control public spending and borrowing, boost growth and raise living standards.
---
Analysis by the BBC's economics editor Kamal Ahmed
Labour insisted that the new rule was not a commitment to spend more money than the present government.
Chancellor George Osborne has put in place rules saying that the government will create an overall budget surplus "in normal times".
Labour voted against the rule in Parliament, and Mr McDonnell said any future Labour government wanted to invest more than the Conservatives. Which could mean more borrowing.
The Office for Budget Responsibility - the government's economic watchdog - will be given new powers to "whistle blow" when it believes that the "credibility rule" has been breached. And under the Labour plans it will also report to Parliament rather than the Treasury. Read more
---
Under Jeremy Corbyn's leadership, Labour has been more vocal in its opposition to austerity but efforts to build a coherent economic policy suffered a setback when Mr McDonnell did a U-turn over his support for the government's deficit reduction plan in the face of opposition from his MPs.
In a speech in London, Mr McDonnell - a key ally of Mr Corbyn's who is also on the left of the party - insisted Labour must have a plan to get the public finances back into the black but, unlike the government, it will do so in a "fair and responsible manner".
Under its new "fiscal credibility" framework, a future Labour government would be obliged to keep day-to-day spending in balance with tax returns and other revenues generated by the government to ensure there is no annual current deficit.
It would also commit to reducing overall government debt - the total aggregate of government borrowing which currently stands at £1.5 trillion - during the lifetime of the next Parliament, expected to begin in 2020, and every Parliament after that.
'Earning money'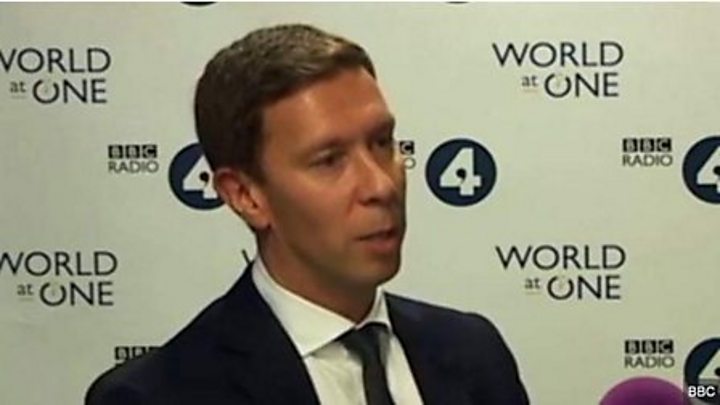 However, the new rules, which Labour says will be "scrupulously" enforced by the Office for Budget Responsibility, will leave room for more borrowing to pay for capital expenditure in infrastructure such as roads, railways, homes and energy.
"The fiscal credibility rule is not about making spending commitments," Mr McDonnell insisted. "It is about providing a framework for the responsible management of public finances," he said.
"We must be a party that thinks first about how we earn money, not only how we spend money."
"There is nothing left-wing about excessive spending," he will add. "There is nothing socialist about running up too much debt. When governments do not manage their finances responsibly, it is ordinary working people who eventually suffer.
"When governments try to disguise their spending, it is accountability and democracy that suffer."
'Serious threat'
Since the mid-1990s, Gordon Brown and his successors have adopted a succession of fiscal rules in order to try and demonstrate Labour's discipline in public spending.
Under Ed Miliband's leadership, Labour proposed to reduce the deficit every year and balance the books, in terms of current spending, during the lifetime of the current Parliament.
It is also pledged to get debt as a share of GDP falling but made no firm commitment on borrowing to invest in infrastructure.
The Conservative government has gone further, targeting a £10bn surplus in both current and capital spending by 2019-2020 and aiming for a continuous budget surplus "in normal times" thereafter.
Many economists believe Mr Osborne will have to revise his targets because of lower growth forecasts, affecting his ability to hit borrowing targets.
The Conservatives dismissed Mr McDonnell's announcement, claiming Labour "hadn't learnt their lesson and couldn't be trusted on the economy".
"Labour spent and borrowed too much last time they were in power. At a time of uncertainty in the global economy, Labour is serious threat to our economic security and it is working people who will pay the price."