Parliament a 'fire risk' without repairs, warn experts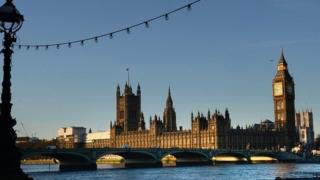 MPs and peers have been told that there is a risk of fire or a "destructive" loss of power if the Houses of Parliament is not fully refurbished.
Cables were at risk of "degrading", some pipe work was 40 years old while the parliamentary estate was rife with asbestos, experts told a committee examining restoration options.
Engineer Nick Mead said relocating MPs and peers during any building work was the "most straightforward" option.
No work is expected before 2020.
The Commons and Lords will have to vote in the next few years on what to do about the state of the 150-year-old Grade I listed building, redesigned in the mid 19th Century by architects Charles Barry and Augustus Pugin following a catastrophic fire.
The Palace of Westminster is partly sinking, much of its fabric outdated, and has been subject to a rolling programme of repairs for decades.
A report published last year concluded that a wholesale restoration of the Palace without moving MPs and peers out would cost £5.7bn and take 32 years. On the other hand, if MP and peers were moved out for six years, the cost would drop to £3.5bn.
MPs and peers looking at the various options available were told on Monday that a huge backlog of maintenance had built up and was unlikely to be cleared if the current programme of continuous repairs continued, another possible outcome.
Many of the building's internal systems had long ago reached the end of their natural lifespan, four leading experts said, while the building had been damaged by climate changes, with rainwater disposal systems struggling to cope with more "intense storm surges".
'Hidden cables'
Mr Mead, president of the Chartered Institution of Building Services Engineers, said there was a critical need for the building's electrical and pipe work to be renewed.
Asked what the risks were if comprehensive repairs were not undertaken by 2030, he replied "they would start" with circuits and cables fraying.
"The burnout of a cable may seem insignificant but the consequences are quite major," he said.
"Electrical cables have a life, 15 to 20 years. You have a number of hidden cables. You don't know the state they are in. The worst consequence is a fire and the catastrophic effect of that, given the amount of wood and finishes in this building.
"But there is also the more destructive nature. If you were to lose your power in the middle of a debate or you lost your lighting, the consequences of that. The pipe work is of an age where it corrodes from the inside. You will suddenly get a leak, a loss of heat."
Lynda Jubb, from the Royal Institution of Chartered Surveyors, estimated the maintenance backlog cost at £2.1bn and said Parliament "had a number of factors working against it in terms of trying to stay on top of the condition".
Asked whether the building could be brought up to scratch without a full or partial evacuation, she said this was "difficult to see".
'Life's work'
While there was a "precedent" for MPs and peers moving out to a different location, she acknowledged any such plans would be "very disruptive" and were likely to be met with resistance.
"If this is a life's work, this is a life's work," she said. "I think the original refurbishment took 32 years.
"The problem that Charles Barry had was asking members to move between chambers. I think he had great difficulty in getting space relinquished in order to get work done and that was the primary cause of delay at that time.
"In terms of life safety risk for construction workers, you have to understand that you are asking people to go into spaces where there is asbestos and to work in already difficult and dangerous conditions and also the duty of care that people who are working here have to you.
"That relationship is extremely difficult to manage and the cost of getting it wrong are unconscionable."
Ideas for a new temporary home for MPs and peers include the Queen Elizabeth II Conference Centre or the Methodist Central Hall, both a few hundred metres from the Palace of Westminster on the other side of Parliament square.
David Cameron has suggested that MPs could move into the Chamber of the House of Lords while work is carried out elsewhere on the estate, as happened between June 1941 and 1950 after the Commons chamber was completely destroyed by German bombing.