Councils to get extra £300m to ease funding cuts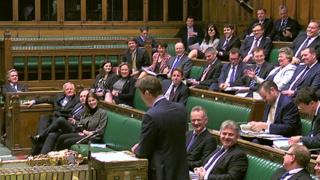 Councils across England likely to be hardest hit by cuts to central government funding are to be given an extra £300m over the next two years.
Local Government Secretary Greg Clark announced the "transitional" cash in a statement to Parliament, saying he had listened to the concerns of councils.
He also announced what he said was a £90m increase in funding for rural councils in 2017.
Labour said local government was still facing a financial disaster.
The Local Government Association (LGA) said it was pleased there would be extra money to ease the effects of funding cuts but councils would still face financial challenges.
'No deterioration'
Speaking in the Commons, Mr Clark said the provisional local government settlement announced in December - which outlined cuts to central government funding of 6.7% between 2016 and 2020 - would go ahead as planned following a public consultation.
This comes on top of a near 30% cut in funding between 2010 and 2015.
Mr Clark said the state of the public finances meant that any change to the pace of cuts was "extraordinarily difficult" but he said he would be offering additional financial support to councils likely to suffer the "sharpest reduction" in funding in the first two years.
"I will make additional resources available in the form of transitional grant as proposed in the response to the consultation by colleagues in local government," he said. "The grant will be worth £150m a year paid over the first two years."
Mr Clark said £32.7m of this funding would be available to rural councils. Coming on top of a five-fold rise in the value of the services delivery grant from £15.5m to £80.5m in 2017, he said an extra £93m in total would be available to meet the concerns of rural councils.
"This proposal means there is no deterioration in government funding for rural areas compared with urban areas for the years of this statutory settlement," he told MPs.
'Fundamental call'
Labour's Jon Trickett said the short-term funding was welcome but insubstantial compared to the billions in extra funding that councils would have to find to pay for extra spending obligations in social care and other areas.
"It reminds me of nothing more than someone speeding along the road into a disaster who then says 'I will take my foot off the accelerator' without changing the destination. Because local government is facing a disaster."
LGA chairman Lord Porter said: "The LGA has been working hard with the government on behalf of all councils - both publicly and privately - to highlight the financial challenges they face over the next few years.
"We are pleased it has listened to our fundamental call for new money to be found to smooth out funding reductions for some councils in 2016-17 and beyond without any other councils losing out further as a result."
He added: "Funding reductions will still be challenging for councils over the next four years. Any extra cost pressures will have to be funded by councils finding savings from elsewhere."